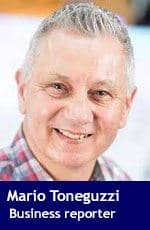 Worker scarcity will remain a problem for Canadian small and medium-sized businesses for at least a decade, says a new report by the Business Development Bank of Canada.
The report, released on Wednesday, said 39 per cent of SMEs are struggling to find new employees.
"Labour shortages are affecting growth for many Canadian businesses, and this has an impact on Canada's competitiveness," said Pierre Cléroux, vice-president of research and chief economist at BDC. "Businesses are being forced to refuse orders or delay deliveries. To help deal with the impact, entrepreneurs should think about hiring from under-represented segments of the population, such as younger or less-qualified workers, retired workers or newcomers to Canada."
In the BDC survey of 1,208 entrepreneurs, close to six in 10 entrepreneurs said the labour shortages mean existing staff must work more, while 47 per cent said they have had to raise wages.
"The indirect costs of labour shortages are no less damaging. For example, business owners are forced to spend more time on the shop floor because of a lack of workers, which means less time spent on developing the business. This holds business back and hinders growth," said BDC.
"The impact of worker scarcity also differs by size of business – it is less acute for very small and very large firms. The severity of hiring challenges peaks for firms with 20 to 49 employees and then drops for firms with 100 or more employees."
It said businesses affected by labour shortages are 65 per cent more likely to generate low sales. The situation is most dire in Atlantic Canada, British Columbia and Ontario, with manufacturing, retail trade and construction the hardest hit sectors.
BDC is the only bank devoted exclusively to entrepreneurs. It promotes Canadian entrepreneurship with a focus on small and medium-sized businesses. With its 123 business centres from coast to coast, BDC provides businesses in all industries with financing and advisory services. Its investment arm, BDC Capital, offers equity, venture capital and flexible growth and transition capital solutions.
Mario Toneguzzi is a veteran Calgary-based journalist who worked for 35 years for the Calgary Herald, including 12 years as a senior business writer.
---

The views, opinions and positions expressed by columnists and contributors are the author's alone. They do not inherently or expressly reflect the views, opinions and/or positions of our publication.