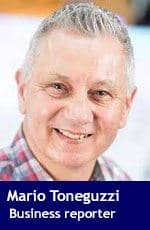 Calgary has attracted another technology company to the city with the announcement Wednesday that B.C.-based Finger Food Advanced Technology Group will open an advanced technology centre in the city.
The company is receiving up to $3.5 million from the Opportunity Calgary Investment Fund to accelerate the incubation of new digital technologies and development of local tech ecosystems.
In a news release, Finger Food is described as a leading enterprise technology solution provider founded in Port Coquitlam, B.C. and the funding will support initiatives at the centre it is creating in collaboration with companies like Microsoft.
The company said it will provide 200 full-time jobs in Calgary by 2023 for highly-skilled design, software development and management professionals.
"There were many compelling reasons to open a technology centre in Calgary," said Ryan Peterson, the company's CEO. "With the talent pool, appetite for growth, and partners like Calgary Economic Development and the Opportunity Calgary Investment Fund, it was the obvious city to launch our first advanced technology centre. We believe, alongside our strategic partners, we can be a catalyst for growth in Calgary's tech and business ecosystem."
"The OCIF Board chose to support Finger Food Advanced Technology Group's investment in Calgary on the basis of three key factors,"said Barry Munro, Chair of the Board of Directors of the Opportunity Calgary Investment Fund, in a statement. "The company demonstrated strong desire to create highly-skilled technology jobs in Calgary in order to support its global client base; its focus on applying its proprietary suite of technologies and processes to solve global issues in areas such as food, health, energy, and transportation; and the positive impact that the creation of the advanced technology centre is expected to have on the Calgary innovation and technology ecosystem."
The Opportunity Calgary Investment Fund was launched by The City of Calgary in April 2018 to support investments that spur growth and create jobs in strategic sectors identified in the Economic Strategy Calgary in the New Economy. Finger Food is the sixth submission to be approved for funding.
"When I first met Ryan and the team at Finger Food, I knew this would be a welcome addition to Calgary's tech and business ecosystem," said Mayor Naheed Nenshi, who is a member of the OCIF Board, in a statement. "By combining engineering expertise and design thinking, their business model lines up perfectly with Calgary's existing talent pool. I believe opportunities like this are exactly what this fund was created for; delivering innovative solutions globally that are effectively 'Made in Calgary.'"
---
The views, opinions and positions expressed by columnists and contributors are the author's alone. They do not inherently or expressly reflect the views, opinions and/or positions of our publication.