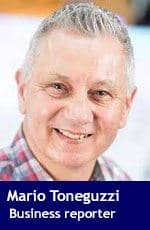 TransCanada Corp. announced on Wednesday it will change its name to TC Energy "to better reflect the scope of the company's operations as a leading North American energy infrastructure company."
The company said its shareholders will be asked to approve a special resolution to change the name at the company's next annual and special meeting of shareholders in the second quarter of this year.
"TC Energy better reflects the breadth of our business and acknowledges our proud history of safely and responsibly delivering the energy that millions of North Americans rely on every day," said Russ Girling, TransCanada's president and chief executive officer, in a news release.
"We believe the name TC Energy clearly articulates our complete business – pipelines, power generation and energy storage operations – and reflects our continued continental growth into an enterprise with critical assets and employees in Canada, the United States and Mexico.
"While our strategy and priorities remain the same, we believe the new name will help to further unite our employees and enable us to better connect with our diverse stakeholders. Whether they know us as TC Energy in English, TC Énergie in French, or TC Energía in Spanish, the communities where we operate can continue to count on us to follow through on our commitments and live up to our values of safety, integrity, responsibility and collaboration in everything we do."
According to the company, TransCanada operates one of the largest natural gas transmission networks that extends more than 91,900 kilometres (57,100 miles), connecting major gas supply basins with markets across North America. TransCanada is a leading provider of gas storage and related services with 653 billion cubic feet of storage capacity. A large independent power producer, TransCanada currently owns or has interests in more than 6,000 megawatts of power generation in Canada and the United States. TransCanada is also the developer and operator of one of North America's leading liquids pipeline systems that extends approximately 4,900 kilometres (3,000 miles), connecting growing continental oil supplies to key markets and refineries.
---

The views, opinions and positions expressed by columnists and contributors are the author's alone. They do not inherently or expressly reflect the views, opinions and/or positions of our publication.