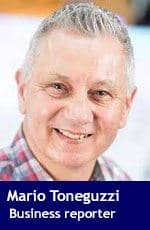 TransCanada Corp. had net income attributable to common shares for third quarter 2018 of $928 million or $1.02 per share, compared to net income of $612 million or $0.70 per share for the same period in 2017, the company announced on Thursday.
The company also said the $1.5 billion NGTL (Nova Gas Transmission Ltd. System) is going ahead. That consists of about 197 kilometres of new pipeline, three compressor units, meter stations and associated facilities. Applications for approvals to construct and operate the facilities are expected to be filed with the National Energy Board in second quarter 2019 and, pending receipt of regulatory approvals, construction would start as early as third quarter 2020.
It said the NGTL capital program, excluding maintenance capital expenditures, is now approximately $9.1 billion, including the $1.5 billion 2022 expansion program.
"During the third quarter of 2018, our diversified portfolio of critical energy infrastructure assets continued to perform extremely well," said Russ Girling, TransCanada's president and chief executive officer, in a news release. "Comparable earnings of $1.00 per share increased 43 per cent compared to the same period last year reflecting the strong performance of our legacy assets, contributions from approximately $7 billion of growth projects that entered service over the last 12 months and the positive impact of U.S. tax reform.
"With our existing asset portfolio benefiting from strong underlying market fundamentals and approximately $36 billion of secured growth projects underway including Coastal GasLink, NGTL's 2022 expansion program and Bruce Power's Unit 6 refurbishment, earnings and cash flow are forecast to continue to rise. This is expected to support annual dividend growth of eight to 10 per cent through 2021. With approximately $10 billion of new projects expected to enter service by early 2019, we are well positioned to fund the remainder of our secured growth program through internally generated cash flow, access to capital markets and further portfolio management activities. Through the end of October, we placed approximately $6.1 billion of long-term debt on compelling terms and raised approximately $2.0 billion of common equity through our dividend reinvestment plan and at-the-market program.
"Looking ahead, we continue to methodically advance more than $20 billion of projects under development including Keystone XL and the Bruce Power life extension agreement. Success in advancing these and/or other growth initiatives associated with our vast, well-positioned North American footprint could extend our growth outlook well into the next decade."
Mario Toneguzzi is a veteran Calgary-based journalist who worked for 35 years for the Calgary Herald, including 12 years as a senior business writer.
---

The views, opinions and positions expressed by columnists and contributors are the author's alone. They do not inherently or expressly reflect the views, opinions and/or positions of our publication.