Jim Button is co-founder of Village Brewery.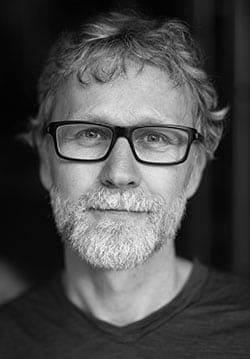 Calgary's Business: What was the spark that made you start Village Brewery?
Button: I remember working at Sears in the early 1980s and saying to my pal Scott that one day I was going to own a bar. At that time I was working dock pickup and customers and employees would pick up items while I was on the other side of the counter getting them their goods, not unlike the interaction between a bartender and a fun-seeking customer. I loved the interaction and the connections I made.
Fast forward to 2010 when I was asked to leave Big Rock as we disagreed on their strategic direction and, voila, everything was lined up right in front of me. I started Village with five guys who were equally interested in building a community-centred brewery. I was finally able to fulfil my dream to be standing behind my own bar serving customers all while using beer to build a better community.
CB: Why has craft beer become such a consumer phenomena in recent years?
Button: It may feel like craft beer has been a recent phenomena but in reality the whole push towards local consumption and purchasing items that are made locally has been gaining momentum for quite a few years.
Craft beer is certainly at the front end of the phenomenon and possibly one of the more visible categories, alongside artisanal coffee and local musicians and artists, but in general I feel like everyone has finally come around to seeing their neighbours in a different light. And I for one am thrilled to seeing this happen.
For too many years, companies were chasing things like globalization and being as big as possible. I grew up in the '80s and McDonald's was proudly putting "Billions and billions served" on their signs. I always felt they were chasing the wrong dreams, they were forgetting the people living right beside them – so now that the pendulum is swinging back to understanding the local community, the idea of locavore has gained momentum and I'm thrilled the beer culture is helping craft a local focus.
CB: What are the reasons for Village Brewery's success?
Button: There are many reasons for the success of Village. First off, our timing was good and our partnership is well rounded in their backgrounds – we have a past CFO of a brewery, arguably the most experienced brewmaster with close to 50 years of brewing, two guys who have taken apart and rebuilt breweries across the northern hemisphere, a partner who got his MBA while working at a brewery and a veteran of the hospitality industry with over 25 years of working in bars, restaurants and breweries, and me, a guy who likes making friends with a strong desire to build a better community.
But to be honest the real reason is that we built a brewery with a purpose, a brewery that knew that beer could be used for good, that beer was a currency that could make things happen and that beer was a social lubricant.
We also felt that our 150 years of beer experience meant we needed to help build the industry we love. To that direction, we've helped start the Alberta Small Brewers Association, we continue to mentor breweries, I sit on the board of directors of Beer Canada and our brewmaster helped Olds College design their brewery program.
The healthier the industry is, the better our province will be. We felt that by bringing 50 engaged leaders who were already doing things to make a better city that we could make things happen together. The power of the brewery is truly in the hands of the community and we are giving 10 per cent of our bottom line back into making a better place.
So to be honest our success is like we've captured an elusive perpetual energy where the more we support the community, the more the community gives back to us.
And the fact the beer is great has been quite helpful as well.
CB: Has the craft beer market in Calgary become over-saturated or is there still more room for growth?
Button: Many people feel that having 20 breweries in our city is already over-saturated. I on the other hand feel there's a significant amount of room for many more breweries.
Of course this is counter to what many others think but if each brewery sets their measure of success to be a meaningful part of a neighbourhood, they will find lots of room to follow their passion to brew and be a part of a very fun industry.
If the dream they chase is to be a big brewery then I have a feeling they'll fail – the future will belong in hands of neighbourhood breweries.
Find a neighbourhood that's starving for local fare and serve up tasty beers and a funky sense of place and you will undoubtedly succeed … just don't plan on going multi-province or multi-national and be happy with being meaningful to your friends and neighbours and you'll be a huge success.
CB: On a personal level, can you explain what's happening with you concerning your health and your status with Village Brewery?
Button: Thanks for asking Mario, it's been a very unique experience the last couple of years and I've learned a lot about myself and even more about the importance Village has in our industry and our province.
Over four years ago I was diagnosed with renal cell carcinoma, cancer in my kidney. I had it removed but two and a half years ago it metastasized in my lungs and has since spread to my pancreas, liver and other parts of my abdomen. I was given a year to live then and am continuing to remind my cancer that we can both live together, and up until February I continued to work both at Village and at Evans Hunt, a local marketing agency.
Alas, I've since taken a step back to focus on my health and am watching the companies versus working at them. It's hard to do but my health and family are my priority right now. I have a beautifully supportive wife and two awesome kids who are my soul focus. Pun intended.
The companies are thriving without me. Dan Evans and Bill Hunt are the leaders at Evans Hunt and they have always been very responsible with their decisions as they knew they were responsible for providing for close to 100 employees and their families.
Village Brewery will continue to thrive because the foundation we built over the last eight years is solid. We're purpose-driven and as a result will continue to be a going concern largely due to what I said earlier – the success is now in the hands of the community and they're taking great care of us.
I will continue to watch closely but for now I'm making sure that my cancer doesn't stop me from seeing my baby grow up.
– Mario Toneguzzi
---

The views, opinions and positions expressed by columnists and contributors are the author's alone. They do not inherently or expressly reflect the views, opinions and/or positions of our publication.