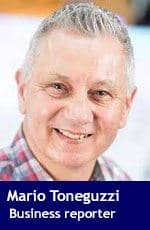 Calgary-based Westleaf Cannabis has received strong validation of its innovative approach in the Canadian cannabis industry with the recent closing of $20 million in financing, including a $2.9-million strategic investment from Tilray Inc.
Westleaf plans to open 20 to 30 retail stores over the next 12 to 24 months, subject to securing real estate, finalizing lease agreements, and completing provincial and municipal approvals. The stores will operate under the banner Prairie Records.
Scott Hurd, president and CEO of Westleaf, called Tilray a world leader in cannabis.
"The Tilray investment is a really strong validation of our unique and differentiated approach to cannabis retail and it's a testament in their confidence in our team's execution capabilities and our ability to capture market share in cannabis retail across Canada," said Hurd.
He said the $20-million financing is a mix of institutional and retail investors.
"That financing was done in conjunction with Westleaf going public via a reverse takeover of a company called IGC Resources. And what that means is Westleaf is in the process of going public. We expect to be trading on the TSX Venture (Exchange) under the ticker 'WL' in early January 2019," said Hurd.
"It's really an opportunity for Westleaf to tell its story to a broader investor base and access deeper pools of capital to continue financing our growth and the main strategy into 2019."
Being a vertically-integrated company, Westleaf owns and controls assets across the entire cannabis value chain, from production and cultivation to selling the product in retail.
The company also owns a 60,000-square-foot research and development, processing, extraction and manufacturing facility in Calgary. The flower will be processed there into a variety of products. The facility is under construction and will be in operation in mid-2019.
Westleaf is also building a large-scale indoor cultivation facility of 85,000 square feet in Battleford, Sask., with an anticipated capacity of 14,600 kilograms of dried flower a year. The facility will be completed in the second half of 2019.
The company is targeting densely-populated, high-traffic and resort-style areas for its Prairie Records retail stores, which will be situated in premium retail locations across the country.
"The retail concept was founded with a desire to create an unparalleled cannabis purchasing experience through tactile in-store features and product offerings that celebrate the inherent relationship between music and cannabis," says Westleaf.
The first retail location is expected to open in Warman, Sask., in early January 2019. The first Alberta location is also expected to open in early January 2019, in the iconic Palace Theatre in downtown Calgary, along Stephen Avenue.
 Hurd said the company plans to have a presence in most, if not all, markets that allow for privatized retail cannabis sales across Canada. The company expects to have up to 30 locations open across Canada through 2019-2020 with about one-third to half of the portfolio concentrated in Alberta.
"The agreement showcases our commitment to the Ontario cannabis market, reinforces our aggressive strategy to launch cannabis retail in privatized markets across Canada and allows us to tap into Ace Valley's dedicated following and strong brand credentials," said Hurd. "We are thrilled to work with Ace Valley and jointly launch superior retail locations that will ultimately benefit the end user through retail excellence and brand consistency."
Westleaf said the agreement consists of Westleaf and Ace Valley introducing a unique and highly curated cannabis shopping experience in prominent and engaged communities in Ontario. The new retail stores will be branded Ace Valley, with the team behind Westleaf providing guidance on standard operating procedures and best in class cannabis retail practices. Ace Valley will support the retail platform through collaboration on design, merchandising and branded marketing efforts. The agreement will be structured to comply will all federal, provincial and municipal laws and regulations governing cannabis retail.
---

The views, opinions and positions expressed by columnists and contributors are the author's alone. They do not inherently or expressly reflect the views, opinions and/or positions of our publication.