Dale Sturges is national managing director of the Indigenous Financial Services Group with RBC.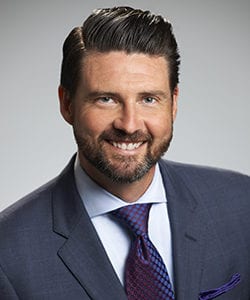 Does RBC offer any unique programs or services to meet the needs of Alberta's Indigenous community?
Sturges: RBC offers a number of programs to support access to education and employment for Indigenous people, including the RBC Indigenous Talent Development Program, which offers a customized learning plan and formal coaching; the National Indigenous Student Internship Program, which offers a challenging, yet rewarding experience with firsthand exposure to the financial services sector; and the Indigenous Student Awards Program, which provides up to $4,000 each academic year for eligible students.
What is the RBC Indigenous Peoples Development Program?
Sturges: The RBC Indigenous People's Development Program is a specially-designed program to enable young Indigenous people to develop the skills and capabilities needed to pursue rewarding careers in the financial services sector. It's a two-year program that offers rotations across RBC, paid experience working for an Indigenous community or organization, a customized learning plan and formal coaching.
Upon successful completion of the program, graduates are offered a permanent position.
How does RBC attract and retain Indigenous employees?
Sturges: It starts with RBC's ability to create a work environment that welcomes, includes and respects Indigenous cultural identity and ways of knowing and doing.
RBC has an Indigenous talent specialist in our HR team who works with our various businesses and recruitment teams on outreach to Indigenous students and professionals in order to promote employment opportunities.
We also have a formal mentoring program specifically designed for Indigenous employees to receive support and guidance on developing their careers at RBC.
We also have an Indigenous employee resource group called the Royal Eagles that provides fellowship and sense of community within RBC. 
Watch our employee videos: https://youtu.be/U4JcP-ATdho
Are there any resources for Indigenous youth to earn scholarships or internships with RBC?
Sturges: RBC offers both a Student Internship Program and an Indigenous Student Awards Program.
The RBC Indigenous Student Awards Program was launched in 1992 to assist Indigenous students to complete post-secondary education, and provide an opportunity for RBC to strengthen its relationship with the Indigenous community. Selected students are awarded up to $4,000 each academic year for two to four years to use towards tuition, textbooks, supplies and living expenses.
The RBC National Indigenous Student Internship Program provides a challenging yet rewarding experience with firsthand exposure and a head start in different areas of RBC, including finance, sales and services, IT, marketing, HR, etc. For those who excel in the program, there may be the opportunity to receive advance full-time employment.
 What has been the biggest success of RBC's reconciliation efforts?
Sturges: More than 30 years ago, RBC released its seminal economic study, The Cost of Doing Nothing, which clearly articulated the impact of excluding Indigenous Peoples from the economic mainstream. Since then, RBC has worked relentlessly toward Indigenous economic inclusion, and today is recognized as a bank that stands for Indigenous inclusion and prosperity – now, and for all generations to come.
This is the guiding principle we follow to inform our work in the era of reconciliation. At RBC, we believe reconciliation has the power to be transformative for Canada, and that we have a duty to honour the Truth and Reconciliation Commission's call-to-action 92 in meaningful and genuine ways. Our success centres on meeting commitments for three priorities – economy, people and community.
More information on these priorities available on www.rbc.com/indigenous. Examples also available in our report called A Chosen Journey.
Dale Sturges was interviewed by Mario Toneguzzi, Troy Media business reporter based in Calgary.
---
The views, opinions and positions expressed by columnists and contributors are the author's alone. They do not inherently or expressly reflect the views, opinions and/or positions of our publication.