Margot Micallef is CEO of Oliver Capital Partners and Gabriella's Kitchen.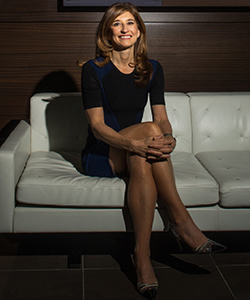 What does it mean to you being the honorary chair of The Lady Ball Gala coming up?
Micallef: I am honoured to be involved in this year's Lady Ball Gala benefiting Ovarian Cancer Canada.
I have yet to meet someone who has not been touched by cancer. I want to alleviate the suffering of those afflicted with and affected by the disease. We need to normalize the discussion of female cancers and create an atmosphere of openness, dialogue and support instead.
The Lady Ball is a fun and glamorous evening for women and men to come out and support this cause. It's important to emphasize the men who come out and support the Lady Ball because men are also affected by ovarian cancer. Every woman who is afflicted with ovarian cancer is a mother, daughter, wife, sister, niece or friend of a man who will be affected by the pain, suffering and death of that woman.
Importantly as well, is that we have identified that oftentimes, it is the men in our lives who give us the nudge to go and get symptoms checked out. So oftentimes, the men in our lives are our heroes for so many reasons.
The Lady Ball brings people together to share their experiences, galvanizes us around our mothers, wives, sisters, daughters, nieces and girl friends who might be suffering from or are at risk of ovarian cancer.
Tell us how cancer has personally affected you and your family?
Micallef: We have all been touched by cancer, directly or through a friend, relative or colleague. I lost my sister, Gabriella, several years ago to cancer. And while the experience of her illness and subsequent death was painful, the silver lining was watching how people came together to help whether it was supporting her personally or donating to cancer research.
We saw the direct benefit of research and application of treatment protocols that all helped to prolong my sister's life. Funds raised at The Lady Ball and further advocacy efforts will ensure women can live fuller, better, longer lives.
I understand the federal budget recently included money for research in this area. How much and for what, and what impact will that have?
Micallef: In its March budget, the federal government committed $10 million for ovarian cancer research. This is a significant milestone in the journey to end ovarian cancer – and it's a victory for all of the work OCC and its army of teal sisters have been advocating for.
Ten million dollars might sound like a lot of money, but it's really a drop in the bucket when it comes to research. Outcomes for ovarian cancer patients haven't improved in 50 years. The five-year survival rate is only 49 per cent, so we still have a lot of work to do.
But the good news is that if caught early enough, ovarian cancer can have a positive outcome. Some key areas of research include identifying new treatment strategies and developing more specific and personalized medicine for all the various sub-types of ovarian cancer.
How big of a problem is ovarian cancer in our society?
Micallef: Many people don't realize that ovarian cancer is the most fatal female cancer in Canada. We lose five women per day to this disease – per day! There isn't a screening test and one out of every two women diagnosed isn't expected to live to see another five years. Those statistics are staggering and need to change. Approximately 210 women in Alberta will be diagnosed with ovarian cancer this year.
Are there other ways people and companies can support this cause?
Micallef: There are a multitude of ways people and companies can support this cause.
Firstly, we can all talk openly and honestly about ovarian cancer and remove any kind of embarrassment associated with it.
Secondly, we can support those who are diagnosed with ovarian cancer morally, spiritually, physically and otherwise.
Thirdly, we can all give even a little bit to the cause. Money for research, treatment and diagnosis is critical. We are always looking for corporate sponsors. We are so grateful to our longtime supporters such as Air Canada, Plains Midstream, Birchcliff Energy, Global and the Nobles. These generous sponsors need support from the rest of our community in Alberta and we welcome anyone who is looking to make a difference in the world to join these tremendous sponsors and OCC in this important and worthwhile cause.
Finally, on an individual level, people can walk in our annual Walk of Hope event in September and during the month of May they can help themselves to a delicious treat at Gorilla Whale restaurant in Inglewood. The pastry chef there has made these beautiful teal spudnuts (doughnuts made with potato flour) and is donating 50 per cent of the profits to The Lady Ball. A delicious way to support ovarian cancer!
Most importantly, women need to listen to their body and see their doctor when they suspect that something just isn't feeling right. Common symptoms include bloating, difficulty eating, abdominal discomfort and a change in urinary habits. These are vague symptoms and that's part of the problem. Women need to advocate for their health.
And men please continue to support and encourage the women you love to get the help they need. Working together we will beat this disease for the benefit of all of us!
– Mario Toneguzzi
---
The views, opinions and positions expressed by columnists and contributors are the author's alone. They do not inherently or expressly reflect the views, opinions and/or positions of our publication.