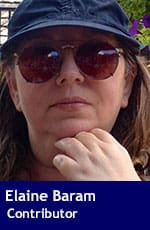 One of my favourite egg dishes is my crustless Kale, Mushroom & Onion Quiche,which I make in my French ceramic bakeware pie dish by Emile Henri. This dish is easy-to-make and suitable for breakfast, brunch, lunch or dinner or anytime you prefer to go meatless.
 What you'll need:
• 4 eggs
• ¾-1 cup cheese shredded or blended cheese (ideally cheddar and Parmesan)
• 1 bunch kale leaves, torn into small pieces
• 1 cup Cremini mushrooms – sliced
• 1 medium chopped onion (sweet preferred)
• 2 Tbsp., margarine, butter or olive oil for sautéing
• 1-cup milk or 10% cream
• 4-5 sprigs fresh dill (or your favourite spice)
• Salt, pepper optional
What to do:
Preheat oven to 205C or 400F degrees.
On the stove, sauté your onions, over low-medium heat for about four to five minutes until they are soft but not brown or caramelized. Add mushrooms and continue to sauté for one to two minutes. Remove from heat and place onions and mushrooms in a bowl. Using the same pan, add kale and sauté for about two minutes until the kale becomes wilted.
I also like to add a sprinkle of sugar to the kale to cut down some of its natural bitterness.
Remove from heat. Combine kale to onion and mushroom mixture.
Pour mixture into a colander; press down with paper towel to remove excess moisture.
In a medium sized mixing bowl, whisk together eggs, milk, dill and all but a couple of tablespoons of the cheese that you'll use later.
Grease an 8 or 9-inch baking dish. Place the kale, onion and mushroom mixture at the bottom of the dish. Pour in egg mixture on top making sure it's evenly distributed. Sprinkle the leftover cheese over the top.
Place baking dish in 400-degree oven and bake for 10 minutes. Reduce heat to 350 degrees and continue to bake until the egg is lightly browned about 20-25 minutes. Make sure you let it cool for 10-15 minutes before serving.
Serve the Kale Mushroom Quiche with a salad and you have a full healthy meal.
If you don't have these exact ingredients, you can substitute any vegetables or cheese that you have leftover in your fridge. I used kale as it was plentiful at my local community garden market but you could also use Swiss Chard. I use PC Organics Cremini mushrooms and Mayan sweet onions from Costco.  For cheese, I use PC Organics Cheddar from Superstore and fresh Parmesan from the Italian Centre.
And if you're a meat lover, you can add some of that too for added flavour and protein.
Eggs are Healthy
It's no secret that eggs are a great source of protein and are known for helping to develop the brain, strengthen muscles and positively contribute to good health. According to WebMD, a single egg has only 75 calories and like milk, contains the highest "biological value" of high quality protein, at 7 grams. An egg contains 5 grams of fat and 1.6 grams of saturated fat but also contains iron, a number of vitamins and minerals as well as carotenoids.
Elaine " Lainey" Baram, aka Consumer Girl, is an informed shopper. She does the research, asks the right questions and helps make sense in the consumer world. Lainey can be reached on her blog ConsumerGirl.com.
---
The views, opinions and positions expressed by columnists and contributors are the author's alone. They do not inherently or expressly reflect the views, opinions and/or positions of our publication.