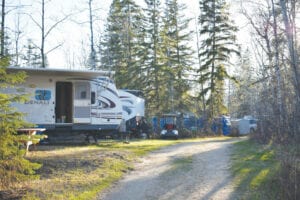 Swan Hills and the surrounding areas have been treated to a beautiful May long weekend this year. The skies were mostly clear, with a bit of light rain Sunday night and into Monday. Swan Hills enjoyed some very welcome warm temperatures, with hotter temperatures around Slave Lake, Whitecourt, and Fort Assiniboine. We even escaped the last dump of snow that often arrives for the May long weekend in Alberta.
All in all, it was a perfect weekend for camping.
May long weekend is the start of the camping season for many Albertans. This weekend has been a great launch to what will hopefully be a fantastic summer. Camping enthusiasts enjoyed the area's many campgrounds, and the seasonal lots by Slave Lake were a hive of activity with returning residents opening up and de-winterizing their trailers for the summer.
This year will be the second summer of the pandemic, and as such, Alberta Parks has put measures in place at their campgrounds to reduce the spread of COVID-19.
• Shower Facilities will remain closed
• Group camping areas will remain closed until the province's group gathering restrictions are relaxed
• In shared campsites with shared amenities, such as picnic tables and fire pits, one half of the site will be closed
• If Alberta Parks cancels any reservations due to public health restrictions, the campers will be notified, and they will receive a full refund (including the reservation fee)
Here's to a great summer in 2021 and an excellent season for all the campers out there!