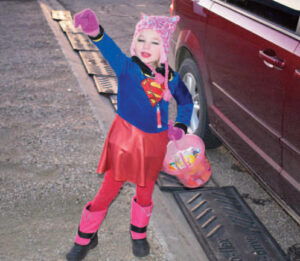 On Sunday evening, Swan Hills children and youth were treated to an extremely rare occurrence in many parts of Alberta; a Halloween without snow. Halloween night was clear and mild, the perfect night for trick-or-treating.
Most of us growing up in Alberta are pretty familiar with the need to fit a snowsuit under our costumes to stay dry and prevent hypothermia while getting our candy fix. A Halloween without snow is quite the treat in Alberta, and I'm glad that the kids in town got a chance to experience it.
I saw some great costumes out there while bringing my own son and his friends around town. It was amusing to see the kids messaging each other on their phones with tips on where to find the houses giving out the best treats. It's definitely a different age than when I was growing up. We had to rely on the old grapevine, hoping to run into a friend that could give you a hot tip on the best houses to visit.
There was an excellent turnout of trick-or-treaters this year. A very informal (and unscientific) poll on the Swan Hills General Discussion Facebook page showed just under half of the people responding reporting seeing more kids this year than last year. Just over a third reported that there were roughly the same number of kids as in 2020, and the rest reported seeing fewer kids this year. Several respondents also made sure to comment that the trick-or-treaters were very polite and well-manner, which is great to hear. Excellent job, trick-or-treaters!
The Grizzly Gazette hopes that everyone had a safe and wonderful Halloween.