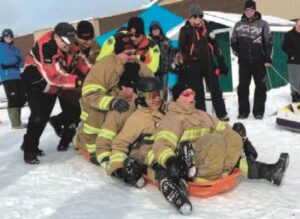 There was no shortage of imagination as contestants showed off their entries the Family Day Cardboard Derby.
One after another, these creative cardboard racers were pushed to the starting line, the drivers and passengers readied themselves as the starter horn blared and off they went. Some flying to the finish line like a shot; others encountered "technical difficulties" on the way down. But it didn't matter whose racer was the fastest, it didn't matter if they made it to the finish line. The howls of laughter and thunderous encouragement kept the momentum going and everyone's spirit high.
Definately a great afternoon to be a Swan Hillian. Congrats to all the entrants, once again you showed what a little duct tape, paint and cardboard can be turned into…an afternoon of fun with your neighbours and friends.