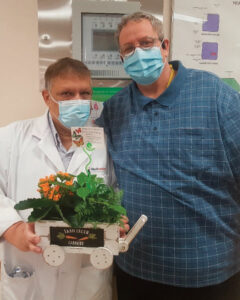 Each year the medical community celebrates Doctor Appreciation Day (March 30th), Nurse Appreciation Day (May 12th) and Pharmacist Day (Sept 25th); in Swan Hills Medical Professionals Appreciation is held yearly to celebrate, thank and honour all health care professionals in the community.  From housekeeping and maintenance staff, lab technicians, clerical staff and student doctors to local physicians, nurses, EMS personnel and the local pharmacist; each and everyone plays a crucial part in the health and wellness of our community.
Prior to COVID, the Swan Hills Hospital Board, Swan Hills Hospital Foundation and the Town of Swan Hills held an appreciation luncheon, usually alternating between Nurses and Doctor Appreciation days.  A day where all local medical professionals could gather and celebrate their year's successes and comaraderie.    Unfortunately, COVID put a hold on the annual luncheon, however; organizers continue to honour these professionals with a floral bouquet sent to the medical clinic, nurse station and pharmacy during the offical recognized appreciation day, to recognize the excellent care Swan Hills receives.   
"Over the last couple of years COVID has hampered our ability to celebrate and recognize the medical team in our traditional way but we are excited at the possibility of soon being able to resume these activities." Said Jeff Goebel, Hospital Board Chair.
With Doctor Appreciation Day on March 30th, a potted plant was delivered to the Swan Hills Medical Clinic to send a hearty Thank You.