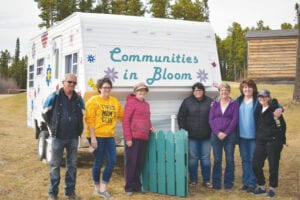 Swan Hills Communities in Bloom (CiB) has completed its first project of 2021. On Thursday, May 6, 2021, CiB installed their latest project at the Four Seasons Wilderness Campground, a beautiful and brightly decorated travel trailer.
One of CiB's members had the idea of turning an old camper into a "Junque Art Project." Junque Art involves creating art from discarded materials such as metal, mortar, glass, or wood. As luck would have it, another CiB member had an old trailer that was headed to the junkyard. So, with the idea in place and the main "canvas" in hand, the major pieces were in place for a wonderful art project for the Swan Hills community.
The CiB volunteers put in over 150 hours bringing this idea to life. The trailer required some minor repairs to get it to a workable condition for the project before the painting could begin. Then came many hours of creative ideas, painting, and a lot of hard work.
In a statement from Swan Hills Communities in Bloom, "We hope that this happy camper will put smiles on the faces of our community and visitors!"
Thank you to the volunteers at Communities in Bloom for once again adding to the beauty of our town.