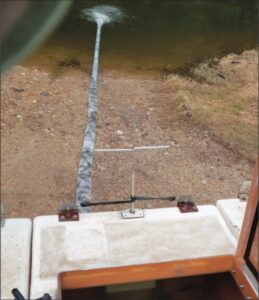 With 4200 adult trout on board, an Alberta fish stocking program made it's way to Swan Hills last month, with 2100 trout for each Chrystina and Edith Lakes. Atlantic Richfield had already received it's share of trout earlier in the month.
According to Fish Culture Manager, Craig Copeland; the Alberta government has over 300 ponds and lakes that are stocked with fish from four provincially owned hatcheries; producing 110,00 kg of fish each year. Two egg hatcheries and two adult production sites ensure fisherman across the province have an opportunity to "catch their fill"; some for sport, some for food. Either way, Alberta lakes are ready for all season fishing.
5 transport trucks make the 100,000 km/year journey in the first of two stocking initiatives, the first in late May to early June when the lakes are warm enough to sustain the new fish and another in the fall.
"(Trout) are eating ma- chines" said Copeland, stocked trout start at 19 cmandcangrowupto3 cm/month and by September will have doubled in size. Even after a being stocked, liberal harvests (5 trout/day/person), can see some lakes "fished out" before the end of summer, launch- ing the fall stocking pro- gram.
Copeland says only public access lakes are stocked, mostly via truck; however there are remote areas that can only be accessed via helicopter. Fish are loaded in buckets and gently dumped from the air. Stocking by truck is by far the easiest and most economical; but there are several lakes not accessible by the delivery trucks. As most lakes are stocked yearly, some of the more remote may not need to be restocked until the second to fourth years. "It all depends on demand." Said Copeland. Some lakes can see 15,000
fish in the summer and up to 5000 in the fall replenishment program. The more fish taken, the more need to be replaced.
Each year the province spends $166M on stock fisheries but the price to raise fish is very low. Ac- cording to Copeland for every dollar spend on fish stocking, the province realizes a $22 return with sport fishing. Copeland says that fish sales are up 30% since COVID as more people look to alternative food sources, fish being high on the list.
Grab your fishing licence, check out the regulations, and go explore your favourite stocked lake this summer.