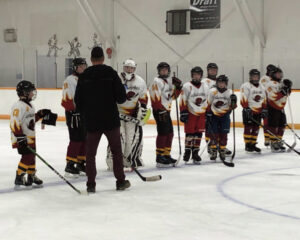 Swan Hills Grizzlies Fun Hockey Middles held a one day tournament over the weekend with teams from Fort Assiniboine, Rich Valley and Neerlandia joining the Swan Hills team for a 6 game event.
The action got started even before the first puck drop at 9 am as locals and visitors hit the concession and prize tables loaded from the generous donations the local hockey club received from their many sponsors.
The first game started at 9 am with Swan Hills vs Neerlandia. Swan Hills took the win 7-2. In the Second game Rich Valley faced off against Fort Assiniboine with a 5-0 win for the Fort. Game 3 was a second win for Swan Hills 5-0 against Rich Valley.
Neerlandia vs Fort Assiniboine, 9-6 for the Fort Assiniboine team in game 4 and game 5 saw Neerlandia beat Rich Valley 7-6. In the final game, Fort Assiniboine beat Swan Hills 7-2.
Matthew McClelland was the Grizzlies top scorer with 6 goals, Jesse Stenberg and Mason McClelland with 3 goals and Hudson Thomsen with 2 goals. Grizzlies were great at passing so there were lots of assists by all team players, Mason, Matthew, Jesse S, Jesse F., Brock, Hudson, Gage, Dylann, Brantley and the team's awesome goalie Cole.
Each team received a Heart and Hustle (toque)and MVP (water bottle) with Eat Sleep Hockey Repeat on it and was chosen by the opposing team.
Thanks to the generosity of the community, the Grizzlies raised enough for new jerseys next year.
Square Draw Winners:
1st Prize Mini bike – Shelly McKort
2nd prize Airpods Pro – Craig Lappin
3rd Prize $100 Visa Card – Matt Nanninga
Several Free Draws were held with the following winners:
Mom Draw: Julie Thomsen
Dad Draw: Trevor Peters
Coach Draw: Devin McClelland
Thanks not only to the generous donations from the community and the hours of volunteer time; the Grizzlies would like to thank all the spectators who came out to cheer the teams on. It was a very successful tournament with great prizes, wonderful food and a whole lot of fun!
The new Grizzlies Fun Hockey teams are the Grizzly Littles for ages 4 – 8 and the Grizzly Middles for ages 9 – 14. Watch for the upcoming Grizzly Hockey profile pullout coming soon.