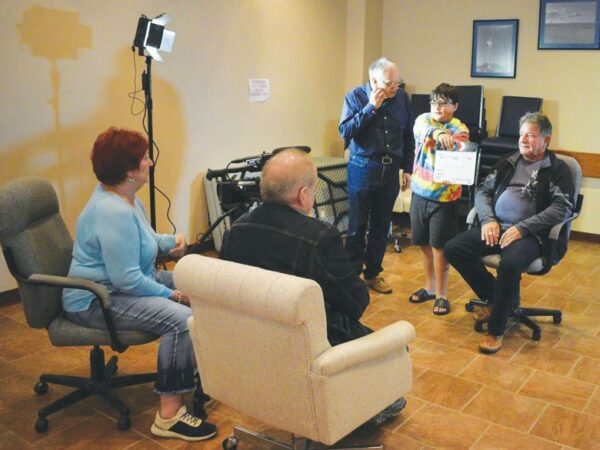 Work has begun on a new promotional video to showcase the distinctive charm of Swan Hills, the benefits of living in or visiting the town, and our wonderful community. The video is meant to attract visitors to Swan Hills, as well as businesses and new residents.
The Economic Development Committee hired North Star Futures to both produce the promotional video and to teach members of the Swan Hills community to create professional-looking videos for this project and the future promotion of the Town. Marc Scholes, the man behind North Star Futures, describes the company as applying designed thinking to branding and communications, and as "rethinking what we do and how we do it in an age of disruption."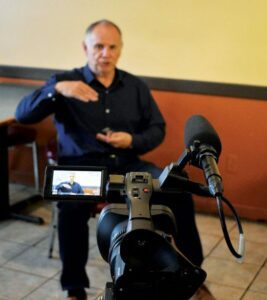 Scholes brought in long-time associates Fran and Share Munoz of Vivia Digital Films to collaborate with him for this project. Marc, Fran, and Share have worked together on various projects for about 6 ½ years after being introduced by a mutual friend in the industry. Share Munoz describes their creative collective as having great synergy, which is quite noticeable when witnessing the ease with which they work together. The group often seems to work on the same wavelength. Share explains that her happiest time working together is "when Marc will look at me and say we need a certain shot, and I say that I've already got it."
Marc, Fran, and Share began hosting workshops by Zoom in mid-June for a group of Swan Hills residents who had been invited to join the project. The workshops focused on how to take professional-looking videos with smartphones. While smartphones might seem like an unconventional tool for making high-quality videos, the cameras on modern cell phones rival many entry-level digital cameras on the market today. Furthermore, from a practical standpoint, the smartphone is a piece of equipment that most people are almost guaranteed to own already and regularly carry with them. Many of the skills taught in these workshops also apply to other types of cameras. If the participants also had other equipment available to them, all the better.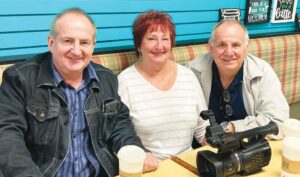 Participants in the video course learned techniques for holding and stabilizing their phones or cameras to take the best footage, considerations such as shooting locations and lighting, and thinking of the resulting video as a cohesive message instead of a series of disjointed sequences. The video course participants also learned the importance of editing video segments together into a completed product and how to do so.
After four weekly 2 – 3 hour workshops, complete with homework assignments, the instructors travelled to Swan Hills for three days to film aspects of the town and its community in person. While providing hands-on training to the video course participants as they also took video footage for the project.
The people of Swan Hills were very welcoming to Marc, Fran, and Share and eager to help in any way that they could. Unfortunately, the weather was not near as accommodating. The filming days were grey and heavily overcast, with unseasonably thick fog at times as well. As such, some of the video segments will have to be re-filmed under clear and sunny conditions for a more pleasing end result.
Thank you to Marc, Fran, and Share for your patient instruction and guidance in making this video for the town. We can't wait to see the end product. And thank you to the Swan Hills community for your cooperation and enthusiasm for this project.