The students of Swan Hills School enjoyed a beautiful fall morning outdoors as they participated in the annual Terry Fox Run on Wednesday. This remarkable event, held in honour of Terry Fox's indomitable spirit and his quest to find a cure for cancer, brought together students from all grades to make a difference in the fight against this devastating disease.
The students of Swan Hills School not only displayed their commitment to a worthy cause but also their incredible community spirit. They raised a remarkable $4,126.25 for the Terry Fox Foundation, a testament to their dedication and hard work in raising donations during the weeks leading up to the event. This generous contribution will undoubtedly aid in furthering cancer research and bring us one step closer to finding a cure.
The Terry Fox Run is a cherished tradition at Swan Hills School, drawing enthusiastic participation from students of all ages. This year, the older students took an extended path that took them up past the hospital and then down Main Street on their way back to the school. For the younger students, their
routes remained closer to the school, making it accessible for all age groups to participate. The inclusion of younger students in the event fosters a sense of community, empathy, and the understanding that they can make a difference, no matter their age.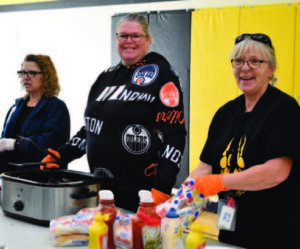 On returning to the school, the students enjoyed a welcome back BBQ lunch, graciously provided by Pembina Pipeline. This event not only refuelled the students after their run but also allowed the Swan Hills community to come together.
The Terry Fox Run is not just an event but an experience that leaves an indelible mark on the students of Swan Hills School. It teaches them about empathy, determination, and the power of collective action in making the world a better place.
Terry Fox's legacy lives on in the hearts of these young individuals who understand that even small steps can lead to significant change.