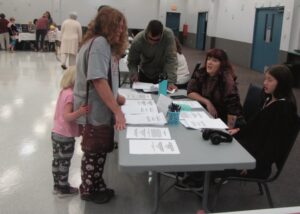 It wasn't a packed house but there was a steady stream of visitors to the Annual Community Registration Night hosted by FCSS and the Town of Swan Hills.
Information exchanged and a whole lotta laughter filled the Keyano Centre as residents took in what the community's not-for-profits have to offer this year.
First stop was Pointe and Drop Dance Studio with their Tuesday, Wednesday and Thursday dance genres of Lyrical, Hip Hop and Contemporary. Ages 6 and up were welcomed to sign up for a season of rhythm and grace.
Next, FCSS (Family & Community Support Services) introduced their yearly line-up of Compas for Caregivers, Budgeting 101, Parenting the Love & Logic Way, Triple P. Community Volunteer Income Tax Prep (for simple tax returns) and returning if enough participants sign up: Edutherapy (Grief and Loss). FCSS will soon be looking for assistance with the Annual Coat Drive in October and the Giving Tree in November (for delivery to local seniors just in time for Christmas). Coming next week will be their Annual Wellness Fair (booth tables can still be booked by contacting FCSS at 780-333-4119. Pack up the kids and head down to the Keyano Center the evening of Sept 16 for the Drive in Movie Night.
Formerly Parent Link, the Swan Hills Family Resource Network Introduced Babies and Buddies, Bullet Journaling, Outdoorsy kids, Teen Hangout and Caregiver Capacity Building.
The Swan Hills Municipal Library has a full calendar with Mondays Coffee Tea & Me, Tuesdays Story Time, Thursdays Creative Corner and Saturdays Game Day events. Also monthly, the Library hosts a Senior Social, Book Club and Family Movie Day.
The Swan Hills Swimming Pool also has a full calendar this year with Aquafitness, Swim Lessons, Parent and Tot, afternoon lane swims along with evening Family, Public and Adult swim. As if that wasn't enough, the pool is also open for party rentals
that come with cake and refreshments. The Red Cross Babysitter course is coming in October and Bronze Cross in November. Starfish and Duck (4 mths – 3 yrs) will be held if a min of 6 pre-register.
Virya Yoga definitely had the most relaxed table at the event as interested residents signed
up for an hour of relaxing and health benefits of yoga. Evening classes begin at the School small gym on Sept 21st and will run weekly from 7 – 8pm every Wednesday.
Swan Hills Grizzlies Fun Hockey runs from October to March for all ages regardless of skill level. Practices are held Tuesdays and Thursdays as players learn team building, sportsmanship and have a whole lot of fun.
The Curling Club is inviting everyone to come out and learn the popular sport of curling. Don't know how to play? Don't have a team? Don't worry, the Curling Club has you covered, the only pre-requisites: you must be able to have fun and enjoy the company of others.
The last table held a crafters delight as the Keyano Quilters gear up for their season restart in October with one meeting a month and an afternoon of Crafting to be held on the third Thursday of each month from 10 am – 4:30 pm at the 50+. Lunch will be provided for a small fee. Bring your craft project (doesn't matter what your craft choice is) and work with like minded crafters in a fun and friendly atmosphere. Never know, you might learn something new or teach someone else a new skill.
Thanks for a great evening!