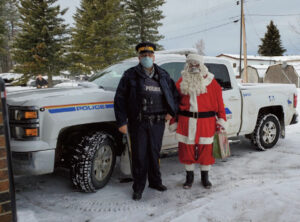 Lite-Up 2021 was once again held in a "drive-by" style as Swan Hills rang in the Christmas Season on Nov 25th.
Santa arrived early in the day for his usual trip around town with the local Fire Department; however due to unforseen circumstances, local RCMP took over the reins this year and ferried Santa around town RCMP style.
Santa took a brief break before heading downtown to meet with children of the community.
Thanks to the generous donation of time and resources of the Swan Hills Chamber of Commerce, each child received a candy bag from Santa.
The evening rounded out with a booming and colourful fireworks display, courtesy of the Town of Swan Hills.