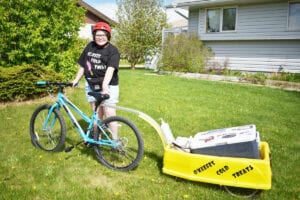 Sophie O'Keefe is a self-driven entrepreneur. She has a goal in mind, and she is determined to reach it. It's inspiring to come across someone who's willing to set out on their own path, with the work ethic to put in the hard work to get to where they want to be. It's even more encouraging to find this kind of determination in someone at such a young age; Sophie is 11 years old.
Sophie's primary goal is to save up enough money to buy a car when she is older. She would like to buy a larger white Dodge car; she's a big fan of Dodge vehicles. Sophie also has another, more short-term objective: saving up some money for a family vacation to British Columbia later in the summer.
So far this year, Sophie has run a lemonade stand in late May and has fashioned her own distinctive ice cream and frozen treat operation. Sophie got a new bike this year and is using it to pull a bicycle wagon with a cooler to keep the frozen goods cold. She incorporates COVID-19 precautions by wearing a mask and having hand sanitizer available. She is even taking measures to protect herself from the heat with a healthy supply of cold water to stay hydrated. Sophie has branded her operation as O'Keefe Cold Treats, with the business name on the sides of her trailer and on a t-shirt that she wears while she works.
Sophie reports that sales have been great with the beautiful weather that we have been experiencing in Swan Hills. When asked what advice she would give to any other youth that may be interested in following her lead, Sophie said, "Make sure to have lots [of stock] at home and make sure to have a tablet or a phone to contact your parents if you need more. And make sure that you sell or bring water when it's hot; it's important to drink water."
With five years to save until she gets her driver's license, hopefully, Sophie will be able to buy herself the perfect car to reward her efforts.
Please keep an eye out for Sophie this summer and help support her efforts. Starting out with such a great work ethic so early in life, we can't wait to see what Sophie will accomplish in the years to come.