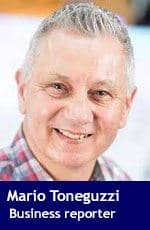 The Alberta College of Art + Design will officially become the Alberta University of the Arts on Feb. 1. It will be the province's first university dedicated to fine arts and design.
And the change comes at an opportune time in Calgary's history as the city looks at different ways of diversifying its economy following the collapse in oil prices in the latter half of 2014.
"This is a historic and most exciting moment for our 92-year-old post-secondary institution. We have been offering professional degrees in fine art, craft and design for decades, and this coming May, students set to graduate will now proudly convocate from Alberta University of the Arts," said Daniel Doz, president and CEO of Alberta University of the Arts.
Many people have suggested that the arts industry could provide Calgary with an opportunity to diversify its economy in the coming years.
Doz said there is a need to diversify revenues so the city doesn't rely solely on one source – the energy sector.
"That's fundamental. That's business 101. You need to diversify your revenues because if something happens to your key source, then you're up the creek (without a paddle). So creative industries – which is really the sector that we're talking about – economic diversification is one of several one can consider," said Doz.
"The question is who is educating the next creative industries workforce? This is where institutions such as AUArts can play quite an essential role. The question becomes who is educating the new workforce for the 21st century?"
Alberta Advanced Education minister Marlin Schmidt said creative minds have come to Calgary for nearly a century to launch international careers in graphic design, fashion and traditional media.
"By granting this iconic school university status, we're cementing an already sterling global reputation. And by investing in AUArts, we're ensuring it remains a destination for Alberta's artists, designers and creative leaders," said Schmidt.
Alberta Culture and Tourism Minister Ricardo Miranda said the new university designation recognizes the provincial government's commitment to the arts and artists, and the important role they play in our society and economy.
"For more than 90 years, this institution has helped make Alberta become a more creative and artistic province. It is so fitting that this announcement be made during Alberta's first Month of the Artist, a month dedicated to celebrate Alberta's artists, and the valuable contributions they make to our province," said Miranda.
– Mario Toneguzzi for Calgary's Business
---

The views, opinions and positions expressed by columnists and contributors are the author's alone. They do not inherently or expressly reflect the views, opinions and/or positions of our publication.