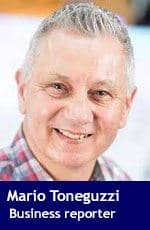 Alberta's economy will be hurt by the cuts in oil production and the declines in energy investment, say a report released on Wednesday by the Conference Board of Canada.
In its Provincial Outlook, the board said Alberta's economy is forecast to grow 1.3 per cent this year as the business climate remains uncertain and mandated oil production cuts shave nearly a full percentage point from growth.
But Alberta's economy is forecast to advance by a strong 3.5 per cent next year as the mandatory cuts to oil production come to an end, it said.
"Positive signals on the oil front have improved the outlook in the oil and gas sector. At the end of January, oil inventory levels were five million barrels below where they had been in 2018. As such, the provincial government announced that it was reducing its mandated production cuts from 325,000 to 250,000 barrels per day. Nonetheless, a lack of adequate pipeline capacity continues to weigh on the industry," said the report.
"Real business investment in the province will fall again this year, marking the fifth consecutive year of losses. High inventories of office space and the completion of the Brookfield Place commercial complex in Calgary will be contributing factors to lower levels of dollars invested this year, before picking up over the medium term. Energy investment remains subdued.
"Mandatory oil production cuts have helped to shore up Western Canadian Select prices, but producers are not expected to increase their capital budgets this year. Investment will pick up in 2020 as production cuts are lifted and clean power initiatives, such as Suncor's replacement of coke-fired boilers with natural gas-fired units, continue the trend toward the phasing out of coal. Imperial Oil's Aspen project will also be entering its second year of construction."
The report said employment in the province will increase by 1.1 per cent despite uncertainty in the energy sector.
The board is forecasting Canada's gross domestic product to advance by 1.9 per cent in 2019 and 2.1 per cent in 2020.
"We still expect business investment and the non-energy trade sector to be important drivers of economic growth as the contribution from households eases, but the economic risks are tilting to the downside," said the report.
"The Canadian economy is facing headwinds on several fronts. Household spending will be restrained by a combination of modest employment growth, rising interest rates, and softer wealth accumulation. Many households will have to divert more of their income to paying down debt as interest rates continue to increase.
"Fortunately for consumers, the Bank of Canada is expected to increase rates at only a modest pace through 2019, and most Canadians should be able to handle the additional interest costs. Nevertheless, household spending, particularly on durables, will be constrained over the near term by rising debt payments. And household wealth will be hurt by slower gains in home prices, a result of federal and provincial government initiatives aimed at cooling down housing markets in Vancouver and Toronto."
– Mario Toneguzzi
---

The views, opinions and positions expressed by columnists and contributors are the author's alone. They do not inherently or expressly reflect the views, opinions and/or positions of our publication.