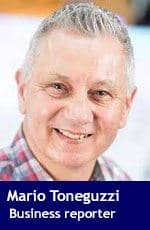 TD Bank Group is predicting Alberta's economy will likely return to a fully-recovered state within the next year, but several challenges cloud the province's longer-term outlook.
"We've observed Alberta is in a place with potential to reassert itself as an economic engine of Canada," says Derek Burleton, vice-president and deputy chief economist of TD Bank Group. "But the province's ability to move in this direction will depend on how some significant challenges are addressed, including pipeline constraints."
The report, Alberta's Economy Making its Way Home: 8 Reasons for Optimism in the Province's Future, was released on Thursday. It indicates that the province's remains on track.
Reasons for optimism include the resiliency of global oil demand and limited supply outside of Alberta, coupled with decreasing production costs, creating opportunities for the sector.
And TD said the province has other industries taking flight, including the high-tech sector, where Alberta is pulling ahead in artificial intelligence research. It also said Alberta's relatively young population, when compared to the national average, is adding to future growth potential and high labour force participation. And Alberta shows a historical record of outperforming expectations for economic recovery.
"Alberta has shown time and time again that we are a province with resiliency at our core," says Robert Ghazal, senior vice-president of the Prairie region at TD Bank Group.
The report said Alberta's ability to reassert itself as a leading growth engine will depend largely on how a number of challenges are addressed. Chief among them: inadequate pipeline capacity, regulatory hurdles, eliminating the provincial government's budget deficit, competition from U.S. shale industry for investment and addressing climate change.
"Arguably, the most pressing challenge relates to the degree of social acceptability of resource development in this country, which Canada has long enjoyed a comparative advantage. We cite eight reasons for optimism that the province remains well positioned to re-establish itself as a leading growth area in Canada.
"Perhaps the most compelling reason didn't even make our top eight list: that being the success of the province in the past to overcome its challenges. Through five difficult recessions, it managed to not only turn in strong recoveries but outperform other Canadian provinces on a 10-, 20- and 30-year average. There is no reason why this won't be the case looking well into the future."
Mario Toneguzzi is a veteran Calgary-based journalist who worked for 35 years for the Calgary Herald, including 12 years as a senior business writer.
---

The views, opinions and positions expressed by columnists and contributors are the author's alone. They do not inherently or expressly reflect the views, opinions and/or positions of our publication.