Transaction volume for Alberta hotels fell by 19 per cent year over year in 2018, according to a new report by commercial real estate firm Colliers International.
The company's 2019 Canadian Hotel Investment Report said there were 19 hotel transactions in 2018 for a dollar volume of $154 million in the province. That involved 1,860 rooms at a price of $83,300 per room. Alberta transactions represented 10 per cent of the total volume of sales in Canada.
The report said record operating metrics, a low Canadian dollar, financing costs at historical lows and active construction pipelines advancing across the country are driving a positive outlook for Canada's hotel industry. In 2018 across Canada, there were 131 hotel transactions for a total of 13,260 rooms and a total value of just over $1.5 billion. The price per room was $138,200.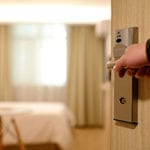 "We're currently in one of the most profitable periods for hotel owners in the last 30 years," said Alam Pirani, executive managing director of Colliers International Hotels, in a statement.
"Eight years into the current cycle, the Canadian hotel industry remains in an enviable position and continues to entice interest from investors. We are averaging over $2 billion per year during this cycle and we are now in an environment that sustains more than $1 billion in annual transaction volumes."
Colliers said the 2018 dollar volume was the eighth highest over the past 30 years . Investors are now spreading a wider net, expanding efforts from top-tier cities to secondary and tertiary markets across the country.
"We're seeing a trend towards limited service hotels, representing the lion's share with 70 per cent of deals this year, over more traditional full-service hotels. Investors are also showing heightened interest in secondary and tertiary markets like Kitchener-Waterloo, Quebec City, Windsor, Sudbury and Kelowna, which are now providing superior returns compared to the traditionally strong markets in Vancouver and Toronto," said Pirani.
Colliers said Canada's low Canadian dollar is expected to elevate levels of international and domestic tourism, painting a positive picture for the 2019 hotel industry. It is predicting a surge in hotel development with national new supply growth expecting to crest two per cent this year, up from a one per cent per year average. And it's expecting another $1.5 billion to $2 billion in transaction volume this year.
"Domestic investment is a core area of strength in Canada," said Pirani. "There's been no shortage of domestic capital propelling the market during the past eight years and, in fact, it has driven two-thirds of hotel transaction volumes since 2011. Expect this trend to continue into 2019."
– Mario Toneguzzi
---
The views, opinions and positions expressed by columnists and contributors are the author's alone. They do not inherently or expressly reflect the views, opinions and/or positions of our publication.