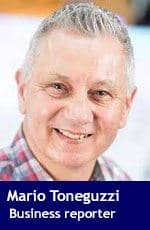 Alberta's economy is softening in large part due to the weaker oil sector backdrop, with gross domestic product growth expected to come in at 1.5 per cent this year, according to the BMO Blue Book released on Tuesday.
"While business sentiment, overall, remains cautious, innovation in technologies geared towards oil exploration and pipeline management remains a bright spot for the economy, as startups continue to emerge," said the report.
The report, by BMO Economics and BMO Commercial Banking, said business owners in Canada generally remain positive about their prospects despite the fact the national economy is expected to moderate to 1.8 per cent.
"The Canadian economy has begun to moderate, with growth coming in at below two per cent in the second half of 2018," said Robert Kavcic, senior economist at BMO Economics.
"Across the country, we see two major themes playing out in 2019. First, oil prices have again become a downside risk for the three producing provinces. Elsewhere, most provinces are coming off very strong runs and are in the process of moving back in line with their longer-run growth rates."
Dev Srinivasan, head of Canadian commercial banking at BMO Bank of Montreal, said businesses across the country are investing in innovation to increase productivity as well as expanding into new markets like the U.S. to increase their growth potential during a slowing economy and changing economic conditions.
He said that's an encouraging trend that will help bolster the overall competitiveness of the Canadian business community.
"Canada's small and medium-sized businesses employ more than 90 per cent of the private sector workforce, and ensuring the continued growth and long-term success of these enterprises is key to reaching the country's full economic potential," said Srinivasan.
– Mario Toneguzzi for Calgary's Business
---

The views, opinions and positions expressed by columnists and contributors are the author's alone. They do not inherently or expressly reflect the views, opinions and/or positions of our publication.