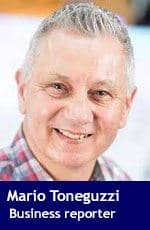 ATB Financial reports that its net income for its fiscal third quarter, which ended Dec. 31, 2018, was $51.8 million – a decrease of 44.9 per cent from the previous year.
Operating revenue rose by five per cent to $427.2 million and deposits increased by 7.1 per cent to $35.9 billion.
ATB said loans also rose by 8.9 per cent to $47 billion and total assets were up by 8.3 per cent to $54.9 billion.
The financial institution, in a news release, said the quarter was marked by challenges in the energy market as the oil patch contended with rising production and ongoing pipeline constraints, pushing the price of Western Canadian Select downwards.
"As Albertans, we continue to be resilient through challenging times; these past months have shown that," said ATB president and CEO Curtis Stange in a statement. "Despite these headwinds, ATB continues to be forward-focused and looking for opportunities to make banking work for all Albertans.
"As we move into the next quarter, we are evolving ATB in several key areas to better deliver remarkable experiences for our customers. ATB Brightside, our upcoming digital-only bank, has started subscribing early adopters who will have access to the experience this year. We also have more than 3,000 customers using our new business banking online platform, with more to come. Being customer obsessed cannot be left to chance. With these changes, we are reaffirming our intention and commitment to consistently deliver on that promise."

ATB said ongoing uncertainty about pipeline construction has stalled capital investment, although a production cut in oil has boosted the price of Alberta's oil.
"Despite concern around pipelines and other global pressures, Alberta continues to hold its own among the provinces. Retail activity, manufacturing, wholesale trade and other economic indicators are hovering around pre-recession levels, while sectors including agriculture, tourism and the tech sector have seen growth," said the financial institution.

ATB, which began in 1938, has 176 branches, 143 agencies, a Client Care Centre, four entrepreneur centres, and mobile and online banking. It employees about 5,500 people with 760,000-plus customers in 247 Alberta communities.
– Mario Toneguzzi for Calgary's Business
---

The views, opinions and positions expressed by columnists and contributors are the author's alone. They do not inherently or expressly reflect the views, opinions and/or positions of our publication.