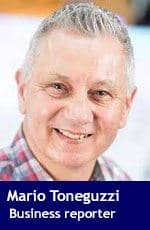 Business investment intentions in Alberta remain positive despite the fact that Albertan business owners are the most pessimistic in the country about the Canadian economy, says a new report released on Tuesday by BDC (the Business Development Bank of Canada).
The report, Investment Intentions of Canadian Entrepreneurs, said intentions in Alberta "are expected to increase in the services sector, but remain weak in natural resources and construction."
The report also found that only 35 per cent of entrepreneurs in Alberta have confidence in the Canadian economy – the lowest percentage in the country.
Pierre Cléroux, vice-president of research and chief economist at BDC, said business investment in Alberta is going to increase this year "but not too much by the fact that Alberta entrepreneurs are not very optimistic about the economy."
"It's going mostly into technology. This is something new that we have been seeing over the the last few years, but especially this year. Businesses are investing more in technology than ever before and they are investing less in buildings and equipment," said Cléroux. "They're investing more in technology, and new technology, to improve their business."
According to the national report, investment intentions among Canadian entrepreneurs remains stable amid a shortage of qualified labour and confidence in the economy.
"It is encouraging to see some optimism from Canadian businesses as they adapt to the labour shortage and digital technology," said Cléroux. "SMEs make up 99.7 per cent of Canadian companies, so their success is crucial to the economy. Companies can better meet today's challenges if they invest in retaining workers, hiring newcomers to Canada and adopting new technology."
Here are some of the highlights of the BDC survey:
53 per cent of SMEs say the labour shortage will cause them to limit business investment in 2019 and this is the second year in a row the problem is cited as the top obstacle to investing;

next cited reasons for not investing are insufficient cash flow (48 per cent) and confidence in Canada's economy (43 per cent);

73 per cent of SMEs expect their revenues will grow in 2019, compared to 72 per cent last year;

40 per cent of businesses plan to devote all or some of their 

investment to new technologies.
"This year's survey provides additional evidence that Canadian entrepreneurs are shifting the way they invest in their businesses. More entrepreneurs will invest in intangible assets, while spending on tangible assets is expected to decline. The need to adopt new technologies to remain competitive in the rising digital economy is a key factor supporting this trend," said the BDC report.
"The economy in 2019 is expected to perform well at a steady pace – the same pace as last year and just a little slower than two years ago. The economy will grow by 1.9 per cent in 2019, compared to 2.1 per cent in 2018 and 3.0 per cent in 2017.
Calgary's Business is a Troy Media Digital Solutions Associate website.
---

The views, opinions and positions expressed by columnists and contributors are the author's alone. They do not inherently or expressly reflect the views, opinions and/or positions of our publication.