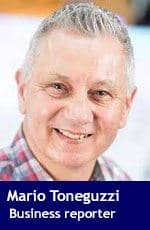 A report by the Conference Board of Canada forecasts Lethbridge will lead Canadian mid-sized cities in economic growth.
"Leading the way in growth is Lethbridge, Alberta. Lethbridge's economy has fired on all cylinders over the past two years, expanding by 5.8 per cent in 2017 and by 5.1 per cent in 2018. A moderate but steady economic growth of 2.6 per cent is expected in 2019 and 2.7 per cent in 2020," says the board's Mid-Sized Cities Outlook, which provides insight into the economic drivers across seven featured cities – Sault Ste. Marie, Brandon, Moose Jaw, Lethbridge, Red Deer, Chilliwack and Prince George.
Lethbridge's real gross domestic product will expand by 2.6 per cent this year as growth in manufacturing, construction, and the primary and utilities sector slows but stays healthy, says the board.
"Strong employment growth will continue, with 2,700 new jobs created this year and next, following an 1,800-job leap last year.
"Population growth will remain solid at 1.9 per cent in both 2019 and 2020, matching the average annual gains of the past decade."
Following two tough years in 2015 and 2016, Red Deer's economy has been in recovery mode. This is expected to continue this year and next, with real GDP expanding by a moderate 1.7 per cent in 2019 and 2.0 per cent in 2020, said the board.
"Red Deer's labour market disappointed last year, as employment increased by a meagre 0.2 per cent. But better days are already here this year and poised to continue, with the anticipated creation of over 1,500 net new jobs in 2019–20," it said.
"Population growth in Red Deer is projected to come in at 0.3 per cent in 2019 and 1.0 per cent in 2020, following a 0.2 per cent gain last year—rates of growth that are well below the 1.6 per cent average annual advances recorded between 2008 and 2017."
Alan Arcand, associate director of municipal studies at the Conference Board of Canada, said it's important to understand the role that these smaller centres play as regional economic hubs, especially now with the upcoming federal election.
"It's worth noting what drives growth and sustainability, and how government policy can influence economic outcomes," he said. 
Mario Toneguzzi is a Troy Media business reporter based in Calgary.
---

The views, opinions and positions expressed by columnists and contributors are the author's alone. They do not inherently or expressly reflect the views, opinions and/or positions of our publication.