Bruce Winder is co-founder and partner of Retail Advisors Network.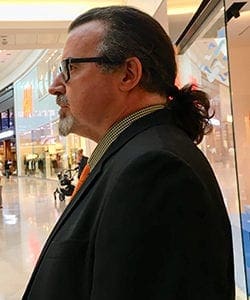 Tell me a little bit about your background and what you do now?
Winder: I spent about 20 plus years in big retail at places like Canadian Tire, HBC, Sears and Air Miles before deciding I wanted to explore life outside a head office and expand my horizons a little.
I started doing interim contracts on the vendor side in sales and marketing and started my own consulting company. After that, I briefly worked for a boutique retail consulting firm to learn how the business works. I then started Retail Advisors Network, a consulting company with my business partner Tony Whitehouse, another retail journeyman.
These days, I consult, mostly for small companies looking to take big retail best practices and use them tailored to their own needs. I also speak at events, teach business at a Toronto-area college and am writing a retail book that will be published next year. I continue to be a student of retail and am obsessed with reading and learning about it on a daily basis.
I enjoy chiming in on retail issues through TV, print and social media and hope I offer an authentic, alternative voice for retail. I guess I am a bit of an anti-consultant for the industry.
What's the biggest challenge facing the retail industry?
Winder: The biggest challenge facing retail, in my opinion, is managing through the shift from bricks and mortar to online retail. You have an entire value chain or supply chain that was geared to selling products through stores. The customer was held captive. There was no choice otherwise. Competition was less fierce.
Now, with online, retailers don't need as many stores, vendors are selling direct first through online, then with stores themselves and customers can cherry-pick the best price through literally thousands of potential sellers.
Many retailers have been caught flat footed with too many legacy fixed assets on their balance sheets and are scrambling to look modern to millennials and generation Z customers.
Amazon is the new Walmart as they can sell for less based on the economics of their business model. They're free to build infrastructure without being held hostage by financial markets.
Direct to consumer, or DTC brands as they are called, are nimble and resonate with younger shoppers.
Margins are shrinking too as more product is sold online. Even Walmart is reportedly losing a ton of money in their online division.
What are the key things retailers can do to make their physical stores successful?
Winder: Physical retail is not dead. It still remains a very, very important channel of selling. But stores need to ensure they understand that their role in the consumer purchase process may have changed. What I mean by that is that with online shopping and the proliferation of mobile, stores aren't just a place to go to make a transaction, although that piece is still important.
Depending on the store and the customer segment they're serving and the product or service they're offering, the store enables the customer experience. More stores have become experiential. Why?
Because folks like Amazon can't really offer that, except for Whole Foods, which of course they own.
Some brands use the physical store as a means to inform consumers and educate consumers. Some use it as a way for community to meet and share stories about problems and brand solutions. Some use it as a way to excite, entertain and delight customers. Some use it as a convenient pickup spot for online purchases. Or to return online goods or repair products that need servicing. Many use physical stores to offer value added, high margin services which complement product purchases.
What's your sense of the luxury market in Canada?
Winder: I think the luxury market is extremely crowded and like the rest of retail has become much more complicated. It used to be Holt Renfrew, Harry Rosen and a bunch of local independents. That was back when less people were wealthy. Now, with more people either truly being rich or at least wanting to look that way, there are a ton of big-name choices for customers. You have Saks Fifth Avenue, Nordstrom and a runway of new luxury stores opening up in major centres like Toronto or Vancouver. It feels like every week I read about another big luxury brand announcing plans to open up a store or two in Canada.
Let's not forget that many of the luxury brands that distribute through Holts now have a few stores of their own too and have built up a nice online direct to consumer business. Then you have the luxury discount channel popping up a few years ago. Saks Off 5th, Nordstrom Rack and, of course, Winners, which has been around for decades. I can't help but think that the market is starting to become, if not is already, over-served.
What key trends do you see developing in Canadian retail?
Winder: I talk about some of this in my new book, but let me give you a glimpse into where I see the industry going.
I see a continued polarization of retail between value at the low end and luxury at the high end, something that mirrors our society. You will see more and more small DTC brands that will stand behind corporate social responsibility that appeal to millennials and generation Z customers.
Of course, online shopping will continue to grow and Amazon will rival Walmart as the largest retailer in the world.
Technology will continue to make customers' lives easier and will continue to become a major component of the purchase decision through education and transaction.
Home delivery will be commonplace for almost all products.
Rental will replace ownership in even more categories and more and more urban format stores will be opened to serve city dwelling millennials and generation Z customers.
Green will be the new black as all retailers and vendors will need to take a leadership role in acting environmentally responsible. Used products will become mainstream and rival new products from a sales perspective.
Interviewed by Mario Toneguzzi, a Troy Media business reporter based in Calgary.
---
The views, opinions and positions expressed by columnists and contributors are the author's alone. They do not inherently or expressly reflect the views, opinions and/or positions of our publication.