Massimo Canonico is director of solutions engineering at Docebo. He spoke about a poll commissioned by Docebo, a provider of AI-based learning platforms, titled 2019 Tech Skills Report.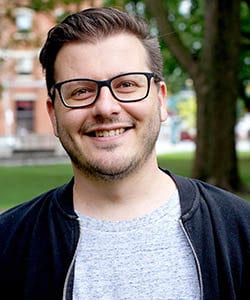 What are the key findings from the poll?
Canonico: The first thing we noticed when we reviewed the data from our survey was that the approach to workplace training needs to be more effective when it comes to offering tech skills training.
While men are 20 per cent more likely than women to receive tech training at work, women (35 per cent) continue to feel less confident in their tech skills. There are other disparities in training when it comes to men and women in the workplace – e.g. while 37 per cent of women are more likely to value soft skills training, only 24 per cent of men find such training valuable. That means that we need to start considering ways to provide more personalized training opportunities for our employees, customers, and partners.
While there will always be a need for top-down style training, providing a platform that allows for more discoverability is also important. Implementing a system similar to how people use Google, but with company-specific knowledge, means that individuals will be able to learn at their own pace and discover topics and learning opportunities that they feel meet their needs rather than those that are specifically prescribed for them.
Why is there such low representation of women in science, technology, engineering and mathematics (STEM) careers?
Canonico: The low representation of women in STEM could be chalked up to not just lack of opportunities, but lack of avenues for growth. In an industry and workplaces that have been historically male-dominated, organizations have not always provided women with a clear understanding of what a career in tech can offer them, in terms of both growth and flexibility – as well as professional development.
Drawing from our own experience as a company with strong technological offerings, we're looking for ways to develop those skills within our communities. We are constantly looking to grow our female workforce and are always searching for female candidates. We want to help to grow the female tech workforce, which is currently only at 25 per cent globally. For this reason and thanks to the help of the academic world and the SheTech movement, Docebo has launched a series of activities involving our artificial intelligence data scientists speaking to female candidates about their career paths and also giving coding, Machine learning lessons and managing boot camps dedicated to women.
The skills survey speaks to this point – despite the fact that women in today's workplaces are more reliant on technology to complete tasks (84 per cent), women are 35 per cent more likely to lack confidence in their tech skills. This goes on to show that women are not empowered in the realm of tech, in a way that is proportionate. Men are also 20 per cent more likely than women (13 per cent) to receive tech training at work, which adds to the disparity that exists between men and women in tech-focused articworkplaces.
We've talked about this issue for some time now. Has there been any positive movement in this direction? Why is it taking so long?
Canonico: Tech companies began releasing diversity reports about five years ago, to ensure that these issues were addressed. It is largely known that women in tech companies face a glass ceiling when it comes to growth within the organization.
We definitely see some positive improvement in this direction, with women holding or held senior positions in tech companies in Canada (Microsoft, HP and Cisco are just a few examples) but it's not enough.
What were the major things the poll discovered about demographics when it comes to this area?
Canonico: The study shows millennials, despite growing up in the tech era, are more concerned about the impact of artificial intelligence (AI) and are less confident than baby boomer colleagues.
Despite confidence in existing technology, baby boomers and millennials alike continue to fear not having the necessary skills to become desirable candidates when leaving their current jobs (25 per cent and 20 per cent respectively).
What became clear from the data is that training should be a priority for all employees, regardless of their demographic. Over 80 per cent of respondents overwhelmingly feel that some sort of training (soft skills or tech) is what will help them gain an advantage when it comes to negotiating higher wages and career growth.
Similarly, businesses need to begin, continue or enhance their employee training offerings to retain and attract top talent.
How do we fix this going forward?
Canonico: For organizations, providing a place where learning opportunities are easily discoverable is extremely important.
Additionally, many organizations have plenty of in-house talent and tapping into that knowledge to provide learning opportunities through that knowledge can be critical. For example, through the use of Docebo's mobile app, subject-matter experts within an organization can easily record learning content on their smartphones, upload it directly to the learning platform and share it with those who would deem it most valuable. It also becomes easily searchable thanks to the AI-powered deep search, similar to a search on Google or YouTube.
---
The views, opinions and positions expressed by columnists and contributors are the author's alone. They do not inherently or expressly reflect the views, opinions and/or positions of our publication.