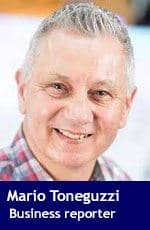 The Canadian economy grew by 0.2 per cent in July after essentially no change in June.
Statistics Canada reported on Friday that real gross domestic product (GDP) growth was concentrated since 12 of 20 sectors were up, led by growth in manufacturing, wholesale trade, utilities, and transportation and warehousing.
It also said the output of goods-producing industries expanded 0.3 per cent after edging down in June, while services-producing industries were up 0.2 per cent.
"The manufacturing sector was up 1.2 per cent in July, its strongest growth since November 2017, as output of both non-durable and durable manufacturing rose," said StatsCan.
"Non-durable manufacturing expanded 2.4 per cent in July, the highest monthly growth in four years, as six of nine subsectors increased. Increases in chemical (+5.5 per cent) and petroleum and coal products (+7.6 per cent) manufacturing were driven by a ramp-up in production following shutdowns for maintenance and retooling at some facilities earlier in 2018."
The federal agency said that following four months of growth in the first half of 2018, the mining, quarrying and oil and gas extraction sector contracted for a second consecutive month, down 0.3 per cent in July.
"Following a 1.2 per cent decrease in June, the oil and gas extraction subsector further declined 1.2 per cent in July to register the largest back-to-back monthly declines since April and May of 2016. The main reason for this decrease is the 3.2 per cent decline in non-conventional oil extraction, resulting in part from maintenance work at a production facility affected by a power outage in the latter half of June. However, the redistribution of production from the affected facility to other ones, coupled with record levels of crude bitumen production in Alberta, mitigated some of the losses in the industry. Conventional oil and gas extraction grew 0.5 per cent as crude petroleum and natural gas extraction both increased," explained StatsCan.
"Mining excluding oil and gas extraction was up 3.8 per cent in July. Metal ore mining increased 3.6 per cent, in part due to a 43.6 per cent rise in iron ore mining as production resumed at mines affected by work-stoppages in the second quarter. Offsetting some of the growth was a 7.9 per cent decline in copper, nickel, lead and zinc as production was reduced in response to lower export demand. Non-metallic mineral mining expanded 4.8 per cent due to higher output at diamond and potash mines. Support activities for mining and oil and gas extraction rose 0.4 per cent on higher activity by rigging services and support activities for mining. Coal mining was down 1.9 per cent."
Mario Toneguzzi is a veteran Calgary-based journalist who worked for 35 years for the Calgary Herald, including 12 years as a senior business writer.
---

The views, opinions and positions expressed by columnists and contributors are the author's alone. They do not inherently or expressly reflect the views, opinions and/or positions of our publication.