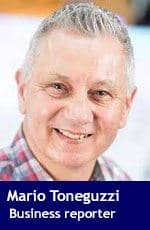 There was some good news for the Canadian economy on Friday.
Statistics Canada reported that real gross domestic product (GDP) expanded 0.3 per cent in October, following a 0.1 per cent decrease in September. There was growth in 15 of 20 industrial sectors, led by increases in manufacturing, finance and insurance and wholesale trade.
"The rise in manufacturing was the main reason for the 0.3 per cent increase in goods-producing industries after two monthly declines. Services-producing industries grew 0.3 per cent, their strongest increase since May 2018, on widespread growth across sectors. The manufacturing sector expanded 0.7 per cent in October, almost fully offsetting the declines in August and September. Both durable (+0.9 per cent) and non-durable (+0.4 per cent) manufacturing increased. The increased output in October partly reflected increased inventories," said the federal agency.
"The mining, quarrying and oil and gas extraction sector edged up 0.2 per cent in October as growth in oil and gas extraction was mostly offset by declines in other subsectors. Oil and gas extraction increased 3.6 per cent in October. Non-conventional oil extraction was up 5.4 per cent as facilities that had experienced production difficulties and maintenance shutdowns in recent months were closer to full capacity, resulting in production levels near all-time highs. Conventional oil and gas extraction rose 1.9 per cent, with both oil and natural gas extraction increasing. The rise in conventional oil extraction comes mainly as a result of higher output in Newfoundland and Labrador, following maintenance shutdowns at some facilities in September.
"The mining excluding oil and gas extraction subsector decreased 4.3 per cent in October as the majority of industries decreased. Following a 4.1 per cent contraction in September, non-metallic minerals mining was down 7.2 per cent in October, largely due to a decline in potash mining. Metal ore mining declined 2.1 per cent with all industries decreasing except for copper, nickel, lead and zinc mining. Coal mining was down 2.2 per cent following three months of growth. Support activities for mining and oil and gas extraction declined 5.6 per cent in October, down for a sixth consecutive month, mainly due to lower activity by drilling services."
---

The views, opinions and positions expressed by columnists and contributors are the author's alone. They do not inherently or expressly reflect the views, opinions and/or positions of our publication.