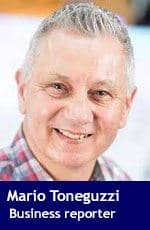 The job vacancy rate in Canada is the highest it's ever been, according to a new report by the Canadian Federation of Independent Business.
The organization's Help Wanted report, which was released on Thursday, said an estimated 397,400 jobs have sat vacant across Canada for at least four months and the job vacancy rate was 3.1 per cent in the second quarter of this year.
"Although the national vacancy rate continues to climb, most of the increase is being driven by Quebec. Rates in B.C. and Ontario remain high, but have eased off a little from the previous quarter," said Ted Mallett, CFIB's chief economist. "The difficulty businesses in those provinces face in meeting their staffing needs is really the headwind of a strong and growing economy."
The CFIB said Quebec's already high vacancy rate experienced the greatest increase to 3.9 per cent, close to the four per cent Alberta saw during the height of the oil and gas boom. British Columbia and Ontario experienced vacancy drops, but maintained their high rates at 3.4 and 3.0 per cent respectively, said the organization.
Alberta's vacancy rate was unchanged at 2.4 per cent with 37,500 unfilled jobs.
Ontario led the country with 154,600 unfilled jobs, followed by Quebec at 109,600 and BC at 62,200.
"The personal services sector experienced the highest vacancy rate at 4.8 per cent, followed by construction at 3.8 per cent and transportation at 3.4 per cent. Vacancy rates advanced in transportation, wholesale and professional services, while those in hospitality and enterprise services fell," said the CFIB report.
"The vacancy rates in other industries held steady this quarter over last. Labour shortages continued to put pressure on wages this quarter, with companies with at least one unfilled position expecting to offer average organization-wide wage increases 0.8 per cent higher than those with no vacancies."
Prince Edward Island had the lowest job vacancy rate in Canada at 1.2 per cent with only 500 unfilled jobs. Newfoundland and Labrador was second lowest at 1.5 per cent with 2,300 unfilled jobs and Saskatchewan had 5,800 unfilled jobs with a job vacancy rate of 1.7 per cent.
Respected business writer Mario Toneguzzi is a veteran Calgary-based journalist who worked for 35 years for the Calgary Herald in various capacities, including 12 years as a senior business writer.
---

The views, opinions and positions expressed by columnists and contributors are the author's alone. They do not inherently or expressly reflect the views, opinions and/or positions of our publication.
Calgary's Business is a Troy Media Digital Solutions Associate website