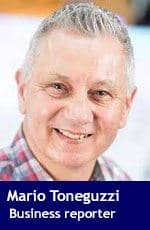 Two-thirds of Canadian small businesses say that they have been negatively impacted by the Canada Post strike at an average cost of $3,000.
A new survey, released on Tuesday by the Canadian Federation of Independent Business, also found that 87 per cent of small firms in Canada viewed Canada Post's delivery services as important to their business.
The CFIB is calling on the federal government to quickly pass back-to-work legislation to get mail and parcel delivery back on track as the critical holiday period draws near.
"The rotating strikes have gone on long enough," said Dan Kelly, CFIB president, in a statement. "A full two-thirds of Canadian small firms have been negatively affected by the strike, and those firms have incurred nearly $3,000 in added costs due to lost orders, late payments and the need to shift to more expensive alternatives.
"Small firms call on Canada Post unions to move ahead with a deal to ensure the corporation can once again become a reliable provider of delivery services at a reasonable cost. If not, CFIB calls on government to pass back-to-work legislation by week's end."
Other results of the CFIB survey include:
67 per cent said their cash flow has been affected by delayed cheques and invoices in the mail;

41 per cent are waiting on the delivery of products or supplies for their business;

35 per cent said their shipments to their customers have been delayed;

71 per cent of small firms supported back to work legislation.
"Postal unions should be particularly concerned with the finding that 65 per cent of small firms intend to use Canada Post less in the future as a result of ongoing work disruptions. Instead, this strike action is creating even more uncertainty, driving loyal small business customers away, with many likely never to return," added Monique Moreau, vice-president of national affairs for the CFIB.
---

The views, opinions and positions expressed by columnists and contributors are the author's alone. They do not inherently or expressly reflect the views, opinions and/or positions of our publication.