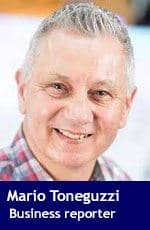 The business confidence of Canadian executives continues its downward spiral that began at the end of 2017 and is now at its lowest point in three years, according to the Conference Board of Canada.
On Friday, the board released its Index of Business Confidence. It summarizes the views of business executives in Canada on the state of the economy and is a leading indicator of business investment. The survey was conducted between Nov. 16, 2018, and Jan. 17.
"The new Canada-United States-Mexico trade agreement has not yet led to the uptick in business confidence that we were expecting. Instead of providing the anticipated boost in business confidence, Canadian businesses appear more pessimistic now than they were before," said Matthew Stewart, director of national forecasting at the Conference Board of Canada, in a statement.
Highlights of the report include:
the Index of Business Confidence dropped 6.3 points to 87.6, well below the recent peak of 101.8 in 2017;

43 per cent of businesses surveyed think that overall economic conditions will be worse in six months than they are today;

firms were substantially more pessimistic about their future finances; the portion of respondents who expect their firm's financial position to improve in the next half-year fell from 53 to 43 per cent;

the share of firms planning a major increase in capital expenditures of 10 per cent or more in the next six months was flat at 28 per cent, compared with 33 per cent in 2017;

businesses cited weak market demand, high interest rates and a shortage of qualified staff as factors holding back investment.
"This is the first business confidence survey we completed entirely after the announcement of the new CUSMA trade deal with the United States and Mexico. It is also the first survey after the federal government announced new measures intended to make investing in Canada more attractive. But, instead of providing the anticipated boost in business confidence, businesses are more pessimistic now," said the board.
"Despite the CUSMA agreement, geopolitical risks remain high. External factors, such as China's dramatically slower growth and the ongoing trade war with the United States, could drag down global growth, which would negatively impact a small, open economy like Canada's. Business leaders have also expressed concern with government policy, and the fall fiscal update measures did little to reduce overall tax rates or make energy projects easier to build. Meanwhile, labour markets continue to tighten, making it harder for businesses to find qualified staff. Interest rates are rising, making borrowing (and investing) more costly, and consumer spending is easing."
On the question about factors holding back investment, the board said it saw big upticks in businesses citing weak market demand, high interest rates and a shortage of qualified staff.
"The other major factor explaining the drop in the index is falling capacity utilization. Last quarter, 35 per cent of respondents reported that their firms were operating at, close to, or above capacity. That has fallen dramatically this quarter, to just 24 per cent. The calculation of the overall Index of Business Confidence relies heavily on firms' responses to this capacity utilization question, because it is one of the most concrete predictors of future investment," explained the board.
"If firms are using their existing capital to its limit, they will be strongly incentivized to invest to meet demand regardless of their feelings about the future. Given that so few firms are experiencing those capacity pressures right now, there appears to be little pressure to invest."
– Mario Toneguzzi for Calgary's Business
---

The views, opinions and positions expressed by columnists and contributors are the author's alone. They do not inherently or expressly reflect the views, opinions and/or positions of our publication.