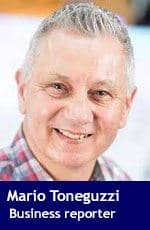 Calgary-based energy company Crescent Point Energy has appointed a new president and chief executive officer, and plans to immediately reduce its workforce by 17 per cent.
On Wednesday, the company announced the appointment of Craig Bryksa as president and CEO, as well as the adoption of "a new clearly defined transition plan with measurable deliverables."
As part of the company's cost reduction initiatives, Crescent Point is finalizing an organizational restructuring that includes an immediate workforce reduction of approximately 17 per cent of employees, it said.
"The company expects this realignment to provide annual savings of over $50 million through reductions in both operating and general and administrative expenses. These savings partly reflect the recent restructuring of the executive team, which is also expected to result in approximately 20 per cent lower annual compensation for current named executive officers in 2018 compared to 2017," said Crescent Point, which did not say how many people would be affected.
It added that the company's transition plan also includes an ongoing review of its operating and capital costs, including the implementation of field automation to further increase efficiencies.
"I want to thank all of our staff for their hard work and contributions over the years," said Bryksa. "This restructuring is difficult, however we needed to adjust the organization to match our current business needs. We are all focused on executing our transition plan and are excited about Crescent Point's future."
The company said its transition plan includes:
focusing the company's asset base by pursuing significant upstream asset divestitures;

targeting a net debt reduction of over $1 billion by year end 2019, at current strip commodity prices, through a disciplined return-focused budget and asset dispositions;

identifying certain midstream assets for potential monetization;

reducing the workforce, resulting in an annual total expense savings of over $50 million.
"Our transition plan is designed to ensure we become a more focused and efficient company with a stronger balance sheet," said Bryksa. "After taking a refreshed approach in reviewing our business, we will look to refocus our asset base into fewer operating areas, follow a more disciplined capital allocation process and reduce our costs. We believe this new approach will enhance our company's sustainability and returns for shareholders."
Mario Toneguzzi is a veteran Calgary-based journalist who worked for 35 years for the Calgary Herald, including 12 years as a senior business writer.
---

The views, opinions and positions expressed by columnists and contributors are the author's alone. They do not inherently or expressly reflect the views, opinions and/or positions of our publication.