Trent Edwards is chief operating officer in Alberta for Brookfield Residential.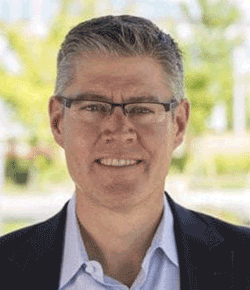 Calgary's Business: How much of an impact did the recessions of 2015 and 2016 in Calgary have on the company?
Edwards: From an overall company perspective, given the diversity of Brookfield Residential, there was no significant impact. In Calgary, we had to right-size our operations and be as efficient as possible given the economic pressures. Gone are the days of 'good enough.' More than ever, we have to be sharper, more innovative, more responsive and more focused on our customer. Overall, the downturn has made us better.
CB: What's your sense of where the economy is?
Edwards: The economy is gradually picking up. There are a lot of positive indicators that suggest confidence is increasing, like an uptick in migration and an increase in sales in the luxury home market.
The economy will continue to progress, especially with two very important elections at the federal and provincial level, as well as positive news coming out of the oil and gas sector.
We have had three solid months and are seeing consumer confidence improve and we expect the gradual growth to continue in the coming months.
CB: What are the biggest challenges still facing the homebuilding industry?
Edwards: Affordability is always top of mind for our industry, and it's important that the industry can maintain affordability and choice for consumers.
Some of our biggest challenges, now and into the future, are the increased regulation and policy and the U.S. tariffs on hard costs.
Until recently, choice was becoming an issue for builders and developers, as no new lands had been approved in almost a decade. July 30 was an exciting day when council approved 14 new communities, meaning more jobs in construction and retail and better choice and affordability for consumers. It was a great message that Calgary is open for business.
It's important to remember that, comparatively, Calgary is an affordable city, but with a challenging economy and increased policy pushing up building costs, we need to actively work together to keep our city from becoming like our neighbours to the east and west. It's our responsibility as industry to protect affordability for consumers while building community.
CB: What are some of the key trends you're seeing in the industry?
Edwards: A lot of the trends we're seeing are a direct result of the new mortgage rules. It will take a while for consumers to adjust to all the changes with buying power. We're seeing a lot of buyers wanting to purchase new homes but need to re-evaluate what's feasible.
That said, we're seeing more multi-generational families buying together, more baby boomers looking to simplify and more millennials entering the market. Another trend we're seeing is a greater shift toward community and looking for a sense of belonging. This is especially true for young families who want to feel connected.
There's great value in being able create connections with the people who share your neighbourhood.
CB: It's a competitive market with lots of other builders and the existing home market. What would you say Brookfield does to differentiate itself from others?
Edwards: There is a lot of competition in the market and we love it. Competition forces us to innovate and create exceptional experiences for our customers – now and in the future.
Brookfield's differentiator is building well-planned communities and well-built homes now, but maintaining and fostering relationships with our homeowners into the future. Whether this is through extended customer care programs, loyalty programs, moving concierge, or our homeowner associations, we care about what life looks like after a customer purchases one of our homes.
We want them to have exceptional experiences with us both before and after we hand them their keys.
– Mario Toneguzzi
---

The views, opinions and positions expressed by columnists and contributors are the author's alone. They do not inherently or expressly reflect the views, opinions and/or positions of our publication.