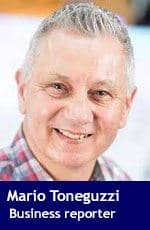 Calgary-based energy giant Husky Energy Inc. announced on Sunday a proposal to acquire all of the outstanding shares of MEG Energy Corp. for implied total equity consideration of approximately $3.3 billion, it said.
In a news release, the company said the proposal values MEG at an implied total enterprise value of $6.4 billion, including the assumption of approximately $3.1 billion of net debt.
"Under the terms of Husky's proposal, each MEG shareholder will have the option to choose to receive consideration per MEG share of $11 in cash or 0.485 of a Husky share, subject to maximum aggregate cash consideration of $1 billion and a maximum aggregate number of Husky shares issued of approximately 107 million. The share exchange ratio has been calculated based on Husky's closing share price of $22.68 as of Friday, Sept. 28, 2018, the last trading day prior to this proposal, implying a mix of $3.21 in cash plus 0.344 of a Husky share per MEG share on a fully prorated basis," it said.
"Husky's proposal delivers an immediate 44 per cent premium to the 10-day volume-weighted average MEG share price of $7.62 as of Friday, Sept. 28, 2018, and a 37 per cent premium to MEG's closing price of $8.03 as of that date."
The news release said that Husky and MEG will create a stronger Canadian energy company, headquartered in Calgary. The combined company will have total upstream production of more than 410,000 barrels of oil equivalent per day and downstream refining and upgrading capacity of approximately 400,000 barrels per day.
"Husky is confident the proposed transaction is in the best interests of Husky and MEG shareholders, employees and stakeholders," said Husky CEO Rob Peabody in a statement. "However, to date, the MEG board of directors has refused to engage in a discussion on the merits of a transaction, giving us no option but to bring this offer directly to MEG shareholders.
"Husky continues to deliver on our five-year plan – maintaining a strong balance sheet while reducing our cost structure, increasing our production and margins and improving our ability to generate free cash flow – we are uniquely positioned to deliver strong value to MEG shareholders.
"Along our integrated corridor business, the physical integration of our upstream and downstream operations, including our committed pipeline capacity, shield us from location and quality differentials. In the offshore business, our fixed-price contracts in Asia and high-netback Atlantic production provide for additional stability in funds from operations."
Mario Toneguzzi is a veteran Calgary-based journalist who worked for 35 years for the Calgary Herald, including 12 years as a senior business writer.
---

The views, opinions and positions expressed by columnists and contributors are the author's alone. They do not inherently or expressly reflect the views, opinions and/or positions of our publication.