Ken LeBlanc is CEO and founder of PropertyGuys.com.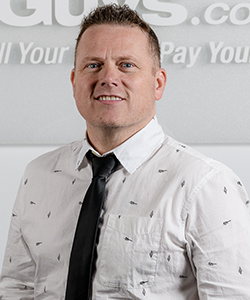 Tell me about PropertyGuys.com. What it is and what it does?
LeBlanc: At PropertyGuys.com, we put the customer back in the driver's seat so they can take control of their real estate experience. Our private sale approach allows sellers to remain securely at the centre of their transaction while benefiting from the know-how of a team of experts.
This allows sellers to connect directly with buyers, expertly market their property, provide data to price it properly, ensure the closing and legal paperwork run smoothly and celebrate their sold sign – all for often a fraction of the cost of using a traditional agent. We're on a mission to create clarity around real estate.
When was it started, why and in how many locations are you operating today?
LeBlanc: I founded PropertyGuys.com in 1998 with Jeremy Demont and Walter Melanson when we were university students who believed real estate should be more accessible and less expensive for the average Canadian.
Armed with our idea and less than $200 in our pockets, we created a service that provides sellers with all of the tools required to successfully and confidently sell their property on their own at a fixed rate, not a percentage of the value of their home – and the concept took off.
Our company entered into franchising in 2001 and now has over 85 franchises from coast-to-coast. Last year, we became an international name by expanding into Florida with a master franchise.
Twenty years later, we are still spearheading the company toward becoming the future of real estate. Every step forward since has been built around the belief that real estate doesn't have to be complicated and should, in fact, be straightforward when you know the steps and process to reach your goal.
What are the growth plans for the company?
LeBlanc: We're always asking, 'What's next?' for the company and instilling that growth mindset in our franchisees and team members. In 2019, we plan to add another 20 franchise units across Canada as well as four master franchises in the United States.
Much of our Canadian expansion is earmarked for Ontario and the Western provinces as we only have two franchise locations left in Atlantic Canada. We're also focused on reaching more buyers and sellers in the communities where we have local franchisees as well as those that are still available.
We are ultimately looking at growing from a pace of 10,000 listings to doing more than 20,000 listings across Canada and beyond within the next 24 months. This growth will ultimately be fuelled by a new technology platform that is slated for release in the fourth quarter of this year.
Why do you think this is a concept that's resonating with today's consumer?
LeBlanc: The way we book trips has changed. The places we stay when we travel have changed. The way we get around in our cities has changed. Even the way we bank has changed – so why not the way we buy and sell real estate?
The industry is primed for disruption and I think many people are aware of this. The status quo is not serving consumers any longer and they want it to change for the better. As Canadians become increasingly savvy with their money and use of technology, we know they're seeking alternative solutions to using a traditional agent that are both seamless and cost-effective.
The purchase and sale of a property is usually the largest transaction that most people will ever make, so there is a lot on the line to gain by selling privately or to potentially give to a middleman. Given the market conditions and buyer access to searching online, the work involved or value for their money – the payout just isn't adding up for many people.
That's not to say that people want to go in alone either. Navigating a real estate transaction, especially for the first time, can be daunting. Our approach ensures that nothing is left to chance by covering each step in the process with the right tools and experts to help sellers feel confident throughout their sale.
What's your sense of what's happening today in the Alberta real estate market?
LeBlanc: When we talk to our franchisees in Alberta, overall, they're noticing that days on market have increased over the past couple of years. Properties are listed for a little longer than in the past, but still moving when priced in line with market expectations – a factor that has become increasingly important in Alberta.
Although it depends on the location and type of property, they're also seeing values and prices slowly decreasing in many cities. Places like Canmore and Banff are fairly steady despite other adjustments in market conditions across the province.
Throughout our Alberta franchise locations, PropertyGuys.com continues to have record listing numbers. In 2018, two of our top three locations for listings and revenue nationwide were in Alberta. Our services resonate with many Albertans, who are savvy and expect good bang for their buck – they want value! Whether it's a hot, stable, or cooling market, people want to get the most for their hard-earned money and are seeing results in their neighbourhoods with PropertyGuys.com's round sold signs popping up and proving that our system works across the province.
People are also very optimistic about the new government change. Whether attributed to the political climate or merely coincidence, there's been a shift in the willingness to list and move within Alberta. For a time, it seemed that the majority of sellers were moving out of province but now, the trend we're seeing is that people are moving to a new neighbourhood or adjoining city.
– Mario Toneguzzi for Calgary's Business
---
The views, opinions and positions expressed by columnists and contributors are the author's alone. They do not inherently or expressly reflect the views, opinions and/or positions of our publication.