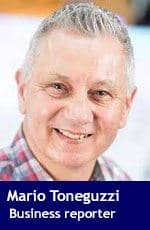 Alberta's restaurant industry has released a number of statistics showing the impact of an elevated minimum wage in the province that took effect on Monday.
The wage rose to $15 per hour from $13.60.
Restaurants Canada said the hike represents an escalation of nearly 50 per cent (63 per cent for liquor servers) over the past four years.
"This steep increase to labour costs is placing insurmountable pressure on many of the province's food service operators," said the association, which is the largest group in the country that represents food service and hospitality businesses.
"People are pointing to restaurant sales going up and up and saying the industry is doing great. But really, that's just menu inflation, and consumers are paying the difference," said Mark von Schellwitz, Restaurants Canada vice-president for Western Canada.
"In reality, many operators are taking losses while figuring out how to adjust their budgets – and with this latest labour cost increase, they'll have nothing left to cut. They've had no chance to come up for air. How long can they keep holding their breath?"
The association said steady increases to the minimum wage since 2015 have already contributed to the following setbacks for Alberta's foodservice sector:
the number of workers employed in the food service and accommodation sector has dropped by 13,300 since a peak of 159,600 in February 2015 to 146,300 today;

food service workers experienced a 5.1 per cent decrease in their average weekly hours between 2015 and 2018;

the average number of workers per unit dropped from 13 to 11.7 between 2015 and 2018;

adjusted for menu inflation of 3.3 per cent, real food service sales from January to July 2018 were 1.6 per cent lower than during the same period in 2017;

food service operators have been struggling more each year; from 2015 to 2018, there was a 9.1 per cent decline in the average inflation-adjusted sales per unit.
Restaurants Canada is again urging the Alberta government to reintroduce the liquor server wage and to introduce a youth wage at $13.60.
Mario Toneguzzi is a veteran Calgary-based journalist who worked for 35 years for the Calgary Herald, including 12 years as a senior business writer.
---

The views, opinions and positions expressed by columnists and contributors are the author's alone. They do not inherently or expressly reflect the views, opinions and/or positions of our publication.