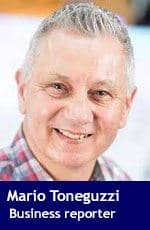 A cannabis cultivating plant in Olds has received its licence from Health Canada for the first phase of its 500,000-square-foot facility.
"Receiving this licence is one of Sundial's most significant milestones to date and I am extremely proud of our team's commitment to develop and execute this important project," said Torsten Kuenzlen, Sundial's CEO. "We will now immediately transfer cannabis plants from our existing and already licensed Rocky View facility into our new flagship facility and begin cultivating in Olds immediately.
"The modular design of our new Olds facility is a major competitive advantage for Sundial. It allows us to grow highest quality cannabis in fully-controlled conditions and leverages our diverse genetic library of over 100 cannabis strains. The new flagship facility will generate significant revenue and profit by meeting the strong market demands in Alberta, Canada, and around the world."
When completed next year, the facility will have 140 individually-controlled cultivating rooms with the capability of producing more than 100 million grams of cannabis annually. The company said it will be the world's largest purpose-built, modular cannabis cultivation facility capable of producing small batch, high quality cannabis.
The company also expects to employ about 500 people.
"We are pleased that Sundial has been approved for their licence to cultivate by Health Canada as this will lead to the company's growth, which in turn will create more employment in our area and help grow and diversify our economy," said Olds Mayor Michael Muzychka in a statement.
Sundial operates a production facility in Rocky View, Alta., and has two other purpose-built production facilities in various stages of completion and licensing. By 2019, Sundial expects to be one of the leading cannabis companies in Canada with projected production of over 120 million grams of dry cannabis and the ability to process over 30 million grams of cannabis extracts.
Mario Toneguzzi is a veteran Calgary-based journalist who worked for 35 years for the Calgary Herald, including 12 years as a senior business writer.
---

The views, opinions and positions expressed by columnists and contributors are the author's alone. They do not inherently or expressly reflect the views, opinions and/or positions of our publication.