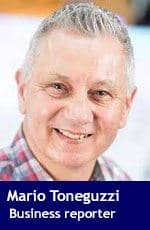 This is shaping up to be the toughest year for food service operators since 2011, according to a report by Restaurants Canada.
The association, which represents food service and hospitality businesses across the country, said overall food service sales in Canada were five per cent higher during the first six months of 2018 than during the same period last year. But real year-over-year sales growth was only 0.7 per cent after adjusting for menu inflation of 4.3 per cent.
Alberta actually saw sales dip by 1.8 per cent, which was the second highest year-over-year decline in the country behind Newfoundland and Labrador's 3.8 per cent drop.
"Bars, restaurants and other food service businesses are fortunately benefiting from increased sales, but mostly from higher menu prices rather than more traffic," said Chris Elliott, Restaurants Canada's senior economist. "It's a challenging situation for many food service operators and their customers; patrons are paying more, so they are dining out less, and businesses are still struggling, even after raising menu prices, to cover their rising costs."
The report said Alberta, British Columbia, Newfoundland and Labrador, and New Brunswick all reported menu price increases of three per cent or more during the first six months of 2018, as businesses responded to greater operating costs in those provinces, such as higher minimum wages.
"Food service businesses are having to make really tough choices," said Lauren van den Berg, Restaurants Canada's national vice-president for government affairs. "They've done their best not to cut back on staff, and instead chose to raise menu prices. But they've still had to decrease the number of hours they can provide workers, and opportunities to work additional shifts. The food service sector is where most of us get our first jobs, so that makes it a lot harder for people entering the workforce."
The report said menu prices in Ontario jumped 6.6 per cent during the first half of 2018, after the new minimum wage of $14 an hour came into effect. This was the largest year-over-year increase that diners in that province experienced since the introduction of the goods and services tax in 1991.
According to Statistics Canada, total receipts in the food services and drinking establishment industry was $788 million in June, which was a record high.
ATB Financial's Economics and Research Team said Alberta's total in June was 1.5 per cent higher than May's. Compared to June of last year, sales were 2.3 per cent higher. Over the last complete 12 months, total receipts are up nearly three per cent compared to the previous 12-month period.
"The latest restaurant figures confirm consumers are feeling positive about the future of the economy, their job situation, and the overall steadiness of the restaurant industry. But not every restaurant is prospering. The price of fresh produce has been on the rise, as have wages for restaurant and bar workers. Restaurateurs have had to dig into their revenues to offset these higher expenses," said ATB.
"Still, Alberta's restaurant industry is performing very well in 2018. A warm summer and Alberta's diverse festival schedule have helped boost people's restaurant spending into record-setting territory."
Alberta's minimum wage will increase to $15 an hour on Oct. 1.
Mario Toneguzzi is a veteran Calgary-based journalist who worked for 35 years for the Calgary Herald, including 12 years as a senior business writer.
---

The views, opinions and positions expressed by columnists and contributors are the author's alone. They do not inherently or expressly reflect the views, opinions and/or positions of our publication.