Robyn Pearson is owner of A Friend Indeed.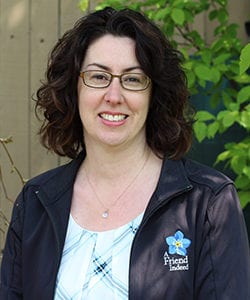 What is A Friend Indeed and what does it do?
Pearson: A Friend Indeed is an invaluable resource to the family caregiver that specializes in uplifting the social and emotional quality of life for their elderly loved one through activities and outings.
Too often the bulk of responsibilities of caregiving and providing a social outlet for an aging parent rests on the shoulders of one person in the family. It can be because of physical distance, family dynamics, personal aptitude or a schedule that is a little more accommodating. It's a big role to take on in addition to the many other responsibilities in life: raising children, work/career, travel, retirement, etc.
Without a reliable support system to count on that follows through for them, many primary caregivers run the risk of burning out, being frustrated and then short with their loved one, causing the onset of guilt to intensify and feelings of resentment to grow.
Through regular scheduled visits by A Friend Indeed, their loved one has opportunities to escape from the usualness of the day. Having uninterrupted, one-on-one time to access and engage in meaningful activities with their friend promotes a feeling of fulfillment, a sense of independence and an opportunity for inclusion in the community again.
Their loved one is happy, and the family gets back time to renew and establish a feeling of balance in their lives and in this role. They can show up for their loved one as the daughter or son that they want to be without the pressure of having to focus on the never ending to-do list. The whole family gets reassurance and precious peace of mind as they know someone special is with their loved one even when they can't.
Regular communication with the family lets them know how their loved one is doing and what we've been up to together.
How and why did you start this?
Pearson: Growing up in a small town in B.C., I stayed close to my mom. I was pretty shy and timid for the longest time. She was one of those ladies who would stop in and check on individuals in town, visit, bring the church program if they requested it and just overall see how they were doing.
When I grew up and moved away, I would hear stories from her about how this person shouldn't be living on their own anymore due to this reason, and this person's wife was in the hospital and he was trying to manage on his own, someone else had a spouse move into a care facility and it was a huge adjustment for both, etc.
Fast forward many years later while walking our dog, I posed to the universe the question: "If I could do anything and knew I couldn't fail and had all the resources available, what would I do?"
Immediately mom's stories flooded my mind. They led me to understand it was small obstacles (sometimes seemingly insignificant to a younger adult) that were in the way of many seniors being able to thrive where they live.
As a naturally curious and creative person, I thought "how could such obstacles be minimized or removed altogether?"
Every senior is so different, every situation is unique. However, having another person, a friend, to help out in such a way that it didn't seem like help could be a viable answer!
Whether it's support at home or in a care facility, having that special friend available to come in means it's not all on the family. For mobile seniors, that special friend gives them access to outings, which means the visit doesn't have to stay on site. It means opportunities to get back into the community, to be seen, to be included. It means family doesn't have to take time off work to bring their loved one to appointments. It means so much more to everyone.
It's important to me that seniors are not only supported but feel valued and significant. Giving them a chance to escape from the usualness of the day, I see so much potential for access to creativity, fulfilment and active living with the support of a friend. This is how we can ward off loneliness and isolation. This is how obstacles are identified then removed or reduced. This is how quality of life can be elevated, through friendship and one-on-one time together.
I'm a family caregiver myself, I know I'm able to understand things easier and support my mom better when I come from a place of ease, spaciousness and flexibility instead of from anxiety or annoyance or guilt. I do better when I feel better.
On an added note, if you believe in coincidence (or not), A Friend Indeed was created and in operation for six years before my mom started experiencing changes. To have the education, the experience and the wonderful friends in place to access in our time of need was true preparation from the universe into our lives. I'm grateful for that. I'm grateful for it all.
What do you think society can learn from our seniors?
Pearson: In a world that never sleeps, where more is perceived as better, where most things today are disposable and what others think of you online or in the all-too-rare face-to-face encounters, I believe a significant lesson can be learned from our more vulnerable seniors. The lesson is to slow down and make a conscious and deliberate choice to be present in the moment with not only yourself but also the other human beings around you.
There's something unseen that's exchanged when this happens. The experience can be with or without words and the activity itself is really secondary to the feelings that develop when two human beings really connect. I feel we, as a society, have forgotten this. It's a wonderful experience to return to when we decide that it really does matter.
Another lesson (and there are so many!) we can learn from seniors is remembering to appreciate the small things. While visiting a gentleman in a Calgary facility, I couldn't help but smile so wide, I was sure it was ear to ear the whole time I was with him. I took him out for a drive around the area and he was so impressed by everything he saw, it was as if it were the first time seeing it. The other vehicles on the highway and how far technology has advanced! The children at the playground and how inquisitive and smart they were! The size and architecture of the building he lived in – when we returned, all of it was amazing! He appreciated everything he saw without judgment and with so much gratitude for it simply being as it was! It was infectious and made a big impression on me and everyone he came in contact with. The world changes when we see things as miraculous.
What was your biggest challenge in setting up A Friend Indeed?
Pearson: Starting a business from scratch is a big endeavour. In the beginning, there are so many hats to wear, decisions to make and things to do – seemingly all needing to be done at once!
My biggest challenge when starting A Friend Indeed was identifying who my customer really was. I know It sounds funny but it was true. I knew I wanted to be in the lives of seniors, to be of service to their needs. I knew how I wanted them to feel while working with us. But the result of my efforts at that time seemed to be off the mark. I made a few inquiries with several seniors and then with their families. I soon realized in many cases there was a huge difference in perception to their loved one's situation. (Now I reminded myself that every family, every senior and every situation is unique and the inquiries I made are not all inclusive.)
From one point of view, life was good. "Everything more or less is taken care of and it's nice to see my daughter or son when they come by to help or to take me somewhere."
From another perspective, that daughter or son is feeling pretty stressed. There just aren't enough hours in the day, enough days in the week to get it all done because of work, the kids, the commute, appointments and other responsibilities that are in life. Stress, along with another prevalent infector guilt, is what these adult children carry with them like an old backpack. Their efforts to help and be company for their loved one comes from a place of good intentions, but the fact is we live in a very busy world. We have to pick and choose where our time, effort and energy goes and if we don't take care of ourselves, then it's a downward spiral that affects everyone.
I understood that my customers are the adult children. What a feeling to be spending time and serving seniors as we do and causing a wonderful and positive impact in the lives of their adult children as well. The ripple effect is enormous.
Wha's your vision for your company?
Pearson: Currently we visit seniors living in Calgary, Airdrie, Didsbury and Olds. My vision is to expand A Friend Indeed through Western Canada and beyond. Too often I hear the words, "If only you were in Edmonton/ Kelowna/Victoria (to name a few)."
We are intentionally and creatively building this business in such a way that we will be able to enter new areas easily and swiftly to begin and maintain the high level of service we have today.
One day, if we're fortunate enough, we will be seniors ourselves. This will be one contribution towards improving the lives of both the seniors and their families now and in the future.
---
The views, opinions and positions expressed by columnists and contributors are the author's alone. They do not inherently or expressly reflect the views, opinions and/or positions of our publication.