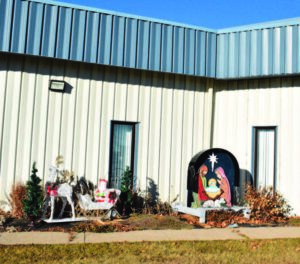 As we reach the halfway point of November in Swan Hills, the days keep getting shorter, and the air is getting chilly, but the weather is still fairly mild for this time of year. While there is some snow on the ground, so far, we're nowhere close to looking like a winter wonderland. Be that as it may, the Holiday Season is just around the corner, and it's beginning to look a lot like Christmas as festive decorations start to appear around town.
Public works staff are wisely taking advantage of the mellow weather to put up Christmas decorations in preparation for Lite Up on November 30. Swan Hills' businesses are also getting in on the fun as they prepare for the season. Angelito Guanlao, the talented chef at the Swan Palace, got into the festive spirit as he decorated the Christmas tree at the restaurant.
Be sure to drop in to the local businesses over the next few weeks to take in their emerging holiday displays. And as the Town's Christmas decorations go up, remember to scope out a prime spot for watching the fireworks after visiting Santa at Lite Up.