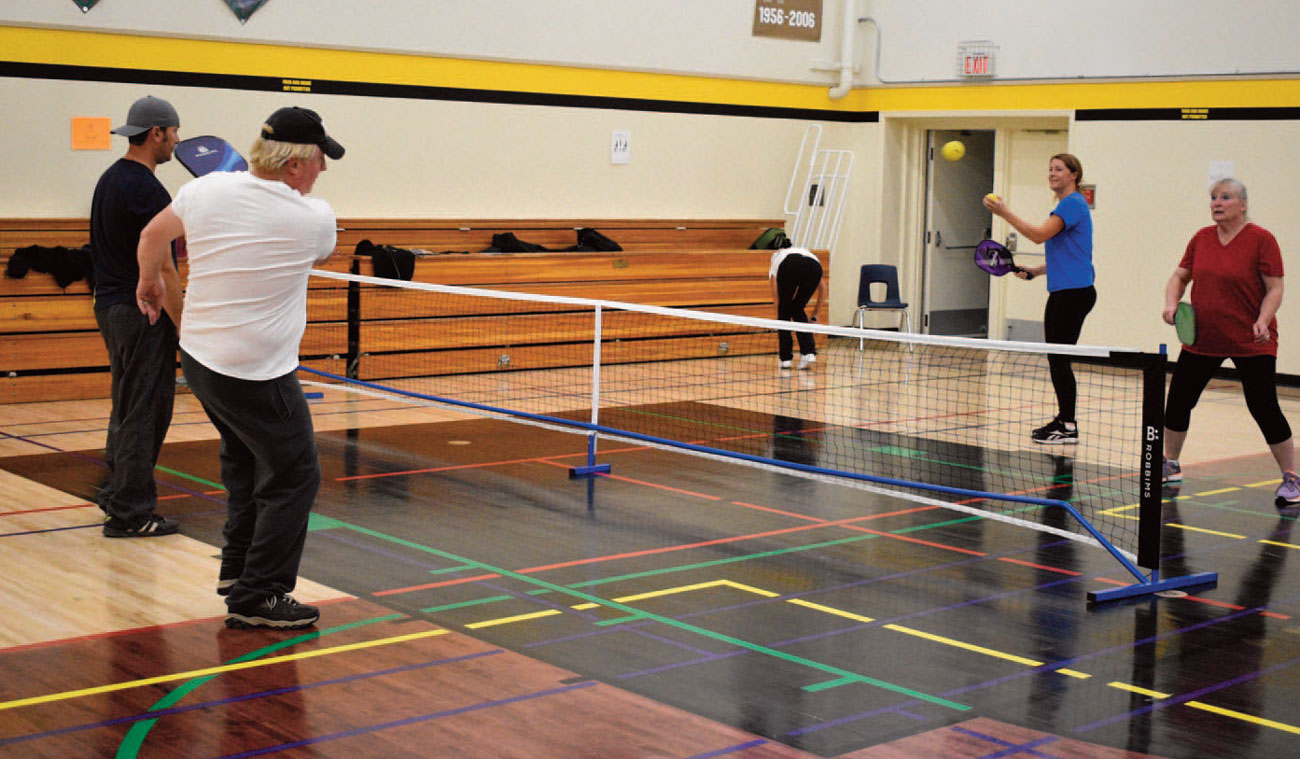 The Swan Hills Pickleball Club (SHPC) had its first session on Monday evening in the large gym at Swan Hills School, drawing a crowd of roughly 20 members of the Swan Hills community to learn about the sport and give it a try. Certified pickleball instructors Guye and Carmen Lappin provided fun and easy guidance and direction on how to play the game. Before long, the gym was full of smiling faces and laughter as Swan Hills got its first taste of pickleball.
Pickleball, a paddle sport that combines elements of tennis, badminton, and ping-pong, has been steadily gaining popularity across North America and beyond since its creation in 1965. Known for its easy-to-learn rules and fast-paced play, it's a sport that can be enjoyed by people of all ages and skill levels. Pickleball games often last for roughly 10 – 20 minutes (20 minutes is a long game), with the physical activity being relatively low impact.
According to a survey completed by the Sports Information Resource Centre (SIRC) in January 2023, 11% of Canadian households report that at least one person in the home plays pickleball at least once a month. From this data, the SIRC estimates that more than 1.37 M Canadians play pickleball at least once a month, with half of that number playing four or more times per month. These statistics show a considerable increase from a similar survey in January 2022, indicating that just over 1 M Canadians were playing pickleball. The sport is even more popular in the United States.
The 50+ Club sponsored the creation of the SHPC, purchasing all of the necessary equipment (nets, balls, paddles, and ball retriever attachments for the paddles) and arranging a location to play. The SHPC will play on a drop-in basis on Tuesdays and Thursdays from 7:15 – 9 PM and on alternating Wednesdays beginning September 13. Registration is $20/year for 50+ members and $40/year for non-members. The reason for this difference in pricing is that 50+ members have already paid a yearly membership fee to the sponsoring organization. New 50+ members will be charged the full $40, which will cover the membership fees for both the 50+ Club and the SHPC.
The SHPC is open to everyone 16 or over. Please wear comfortable clothes that allow for a good range of motion and running shoes (sandals or flip-flops will not do the trick here).
If you're in Swan Hills and looking for a way to stay active, make new friends, or just have some fun, the Swan Hills Pickleball Club is the place to be. Join this exciting new Club, and you'll discover that pickleball isn't just a game; it's a pathway to community spirit and a healthier, happier life in Swan Hills