The Pointe 'N Drop Dance Studio students have had a fantastic season with incredible performances at two dance festivals.
At the More Vibe Dance Festival, held on March 23 – 36, Pointe 'N Drop students took home two gold medals and 11 silver. In addition, the lyrical duet of Jalyn MacAhonic and Kendal King received a Most Promising Award, with Kendal also receiving an additional Most Promising Award for her lyrical solo performance. Three students also won scholarships, all in one day: Kendal King, Ryder Zuk, and Jordyn Bruce.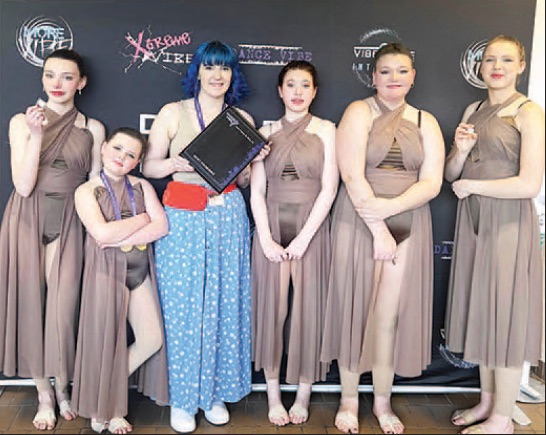 Pointe 'N Drop pulled out all the stops for the Dance Vibe Dance Festival, held on April 20 – 23, bringing home ten gold medals and three silver. Kendal King received another Most Promising Award for her lyrical solo performance. The Lyrical group "Won't You Stay?" (Jordyn Bruce, Alivia Hanna, Iris Macdonald, Kendal King, Jalyn MacAhonic, and Rhiannon Bruce) also received a Most Promising Award. Two students won scholarships; Jalyn MacAhonic and Jairus Tabilin.
As an additional accomplishment for the studio, Pointe N' Drop's dance instructor Victoria Dyck won a choreography award for the contemporary group "Stand In The Rain" (Shelby Gottfried, Jordyn Bruce, Jalyn MacAhonic, Rhiannon Bruce, Avery Robichaud-Bourque, and Kensey Thomsen). Victoria describes the moment, saying, "I was a mess; I was crying my eyes out. It was hard because I went into this genre completely blind, like I didn't know if I was doing it right or anything, so it was just a good solidarity thing. Like, hey, you are doing this right; you're doing a good job." On the day that the "Stand In The Rain" group performed, they were also invited to return for the evening showcase, an opportunity for the judge's favourite solo and group performances of the day to win trophies and money.
When speaking about her students' accomplishments, Victoria said, "I think that's the beauty of doing two festivals. Because at the first one, they're all nervous, and they get out there, and some of them maybe miss a move or two, or they get nervous, and they don't show their faces, like they're not having fun, no smiles or anything. And then after that, they're like ok, we've done it; it's under our belts now. And then they get to the second one, and they're just on fire. Like, they had the faces, they nailed the moves; they all did amazing at that second one, like I couldn't believe it."
Congratulations to the Pointe 'N Drop students and their instructor, Victoria Dyck, for all your accomplishments this season.