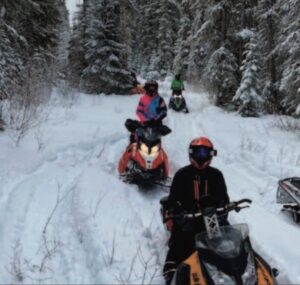 The Swan Hills Snow-Goers have been hard at work clearing the local snowmobile trails, getting them in tip-top shape for the season and preparing for upcoming events in February, including the club's 54th Annual Rally on February 25.
As part of the Alberta Snowmobile Tours being offered by the Alberta Snowmobile Association (ASA) in various locations across the province, the Swan Hills Snow-Goers will be hosting a tour of the local trail system on February 11. The ASA has organized these tours with member clubs to encourage potential snowmobilers to come out and give snowmobilingatry.It is also an excellent opportunity for people who would like to get better acquainted with the local trail system with the guidance of seasoned snowmobilers familiar with the region.
The tour will be roughly four to five hours long, including a lunch break and stops along the way. Participants must
register through the Alberta Snowmobile Tours website (albertasnowmobiletours.com) before February 11 to give the guides an idea of how many people to expect. The group will meet at the snowmobile staging area behind the Tourist Information Booth on Highway 33 at 9:00 AM. After a pre-tour safety and organizational meeting, the group will head out on the trails at 9:30 AM.
Participants are responsible for providing their own snowmobile, appropriate winter gear, and any personal supplies. A current seasonal ASA membership or day pass will be required. Bring a lunch, snacks, and any (non-alcoholic) beverages needed for the day. There will be a campfire for the lunch break, so feel free to bring hot dogs or other campfire-friendly foods.
Seasonal ASA memberships ($90 for adults, $45 for youth 13 and under) and day passes ($25) can be purchased at Wilderness Playground Tours in Swan Hills or online through the ASA website (albertasnowmobile.ca).