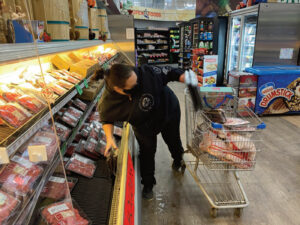 With 50 seconds on the clock, local Super A shopper Melissa Tout was ready. Cart in hand and the isles clear, Melissa took off like a shot with one goal in mind – get as much in the cart as she could before time's up. Heading to the meat department and grabbing things on the fly, Melissa racked up $499.44 worth of free groceries in her 50 seconds.
Melissa was one of the winners in this year's TGP Scratch, Snap and Win promotion which ran at TGP independent food stores from September 9th to November 3rd. Along with the prize of a 50 Second Shopping Spree, there was over $148,000 in prizes and discounts available to be won. There was one winner of a shopping spree for each of the participating stores, including the Swan Hills Super A.
Congrats Melissa!
Starting November 25th, the local Super A will be running a "Giving Tree" fundraising promotion in support of the Swan Hills School Breakfast Program. Purchase a paper ornament at the Swan Hills Super A from Nov 25 – Dec 22nd and help decorate the Giving Tree and raise funds for our local students. Anyone wishing to donate to the school's breakfast program can contact the school. Let's help our students begin their school day with a healthy breakfast.