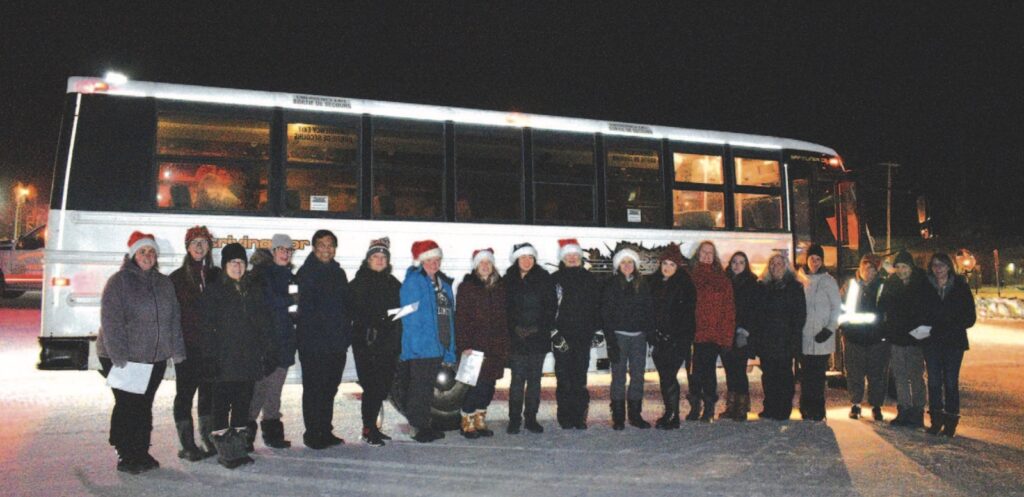 The Swan Hills School staff's first-ever "Stuff The Bus" food drive was a resounding success. After a busy night collecting food donations on Thursday evening, volunteers for the campaign loaded up all of the seats on the bus and were able
to fill the shelves at the food bank.
According to associate Principal Kara King, "It was a very successful drive."
The night started with school staff volunteers and some of their family members meeting up at the white "Grizzlies" school bus parked in the Keyano Centre parking
lot. Members of the Swan Hills Fire Department and the Community Peace Officer also helped by setting up lighting for safety and drawing attention to the campaign. After a short organizational meeting to sort the volunteers into teams and set out areas of town for each team to canvas, they were off to gather donations. "The staff were very excited," King said, "you could feel the Christmas Spirit in the air."
In addition to the donations collected by volunteers going door-to-door, some Swan Hills community members brought
their contributions directly to the bus. Super A had prepared care packages of foods identified as needed for the food bank that could be bought and left at the store for later pickup by "Stuff The Bus" volunteers.
After every donation had been loaded onto the bus, the volunteers made their way to the food bank. It took 20 minutes to unload all the generous contributions from the Swan Hills community and stock the organization's shelves.
The organizers of the "Stuff The Bus" campaign would like to thank all of the staff volunteers and
their family members, the Swan Hills Fire Department and Community Peace Officer, and Super A for their efforts to support the campaign. And
thank you to the Swan Hills community. "I can't even express the gratitude for the community of Swan Hills." said, King.